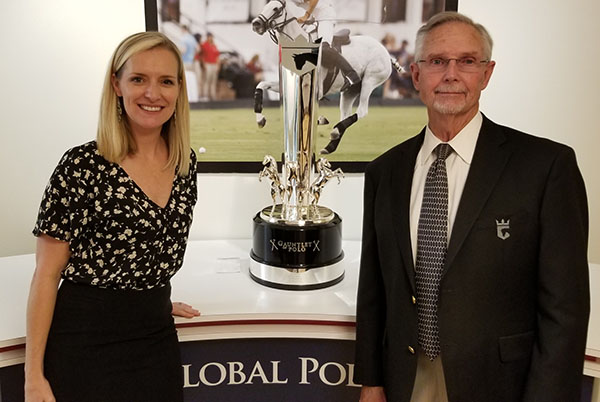 By Mike May
The Gauntlet of Polo, an elite three-tournament series featuring 14 of the world's best polo teams, is now underway. This is the second year of the Gauntlet of Polo, which started earlier this month at the International Polo Club Palm Beach in Wellington. Games will continue across three high-goal tournaments until the finale on Sunday, April 19.
During a West Palm Beach reception on Wednesday, Feb. 12, the details of the Gauntlet of Polo were released to the media. In attendance were polo association executives, top polo players, polo enthusiasts and Palm Beach County tourism officials.
The first Gauntlet event is the C.V. Whitney Cup, which runs from Feb. 1 to Feb. 23. The second event is the USPA Gold Cup, which starts on Feb. 22 and concludes on March 22. The third and final event of the Gauntlet series is the prestigious U.S. Open Polo Championship, which begins on March 21 and wraps up on April 19. All three tournaments will be contested at the International Polo Club Palm Beach with key games on U.S. Polo Assn. Field 1.
It's worth noting that one portion of the Gauntlet of Polo will be receiving network television coverage for the second straight year. On Sunday, April 26 at 2 pm., CBS Sports will broadcast the U.S. Open Polo Championship final.
The Gauntlet is hosted by IPC and sanctioned by the United States Polo Association (USPA), the sport's governing body. It is sponsored by USPA Global Licensing (USPAGL), which oversees the U.S. Polo Assn. brand. The Gauntlet offers $500,000 in prize money via the three tournaments, and if one team is able to win all three Gauntlet of Polo events, it will also receive a $500,000 bonus, for a total purse of $1,000,000.
What makes the Gauntlet of Polo so unique and appealing is that it combines these three top tournaments into a high-stakes series. In addition to the three individual titles at stake, any team that wins all three events will be crowned the Gauntlet Champion. It happened last year when Pilot won each title. Pilot returns this season as the defending champion.
Those who work in the polo universe are thrilled about the second year of the Gauntlet of Polo.
"The Gauntlet of Polo is our sport's ultimate competition, with the best teams competing against each other over the course of the three-month competition for the largest purse in USPA history," said David Cummings, president and CEO of Global Polo Entertainment. "Our goal is to create the premier polo event to watch. Fans on site at IPC and those watching the final around the world on CBS Sports will witness the very best our sport has to offer, along with the tradition, thrill and glamour of polo."
USPA CEO Bob Puetz said the series puts on display the best of the sport.
"The Gauntlet of Polo features the best players, best teams and best organizations," Puetz said. "This year's field has two new teams, Dutta Corp and Patagones. The USPA looks forward to another highly competitive winter season that culminates with 14 teams vying for three of the most historic trophies in North America. Pilot is returning this year with Lucas Escobar to defend the Gauntlet championship against the top teams, players and horses from around the world."
USPA Chairman Stewart Armstrong expects this year to build on the Gauntlet's success in its inaugural year.
"The Gauntlet of Polo is a breath of fresh air," he said. "As an association, we are delighted at our strong level of competition. Our effort was to produce the best polo that we can deliver."
Carlucho Arellano, UPSA executive director, agreed. "This is the most competitive series of polo tournaments in the world," he said.
There are three main ways that fans can watch all three Gauntlet of Polo events. They can attend as spectators, where they can watch the competition in person, on site, at the International Polo Club Palm Beach in Wellington, or it can be viewed via live streaming on Global Polo Network TV at www.globalpolo.com, or game highlights can be seen on Global Polo Network TV at www.globalpolo.com.
"With www.globalpolo.com, you will be able to watch the polo game on any device, anywhere, at any time," Cummings said.
The three on-air presenters who will be describing the action will be Toby Wayman, Karl Ude-Martinez and Camila Gonzalez. Wayman will be handling play-by-play duties, Ude-Martinez will be the analyst and Gonzalez will oversee interviews along the sidelines.
Last year, history was made during the inaugural Gauntlet of Polo season, when Pilot captured all three events to win the $500,000 bonus and earn a total of $1,000,000.
Pilot will defend its title against a strong field of contenders, which includes five 10-goal players, the highest polo handicap available. The 10-goalers competing this year will be Sapo Caset, Facundo Pieres, Gonzalito Pieres, Polito Pieres and Pelon Stirling. Brothers Facundo and Gonzalito Pieres were members of Pilot's winning team last year.
Geronimo Obregon, a 5-goaler for Patagones, competed in the inaugural series last year and is playing again this year, with a high level of confidence.
"It's an amazing tournament and really fun, too. We are competing against the best competition," Obregon said. "We have a good chance to win. Our team is well organized."
It's worth noting that Obregon and his Patagones teammates won their opening match in the C.V. Whitney Cup 10-8 against Old Hickory Bourbon in early February.
"We are enjoying the moment," Obregon smiled.
Patagones has its second C.V. Whitney Cup match on Sunday, Feb. 16 at 10 a.m. versus Daily Racing Form, which is led by 6-goal player Jared Zenni.
When asked whether Patagones or Daily Racing Form will prevail in the upcoming match, Obregon showed no lack of confidence for his team.
"My team, of course," he proclaimed.
The 14 teams competing in the 2020 Gauntlet of Polo include: Cessna, Coca-Cola, Daily Racing Form, Dutta Corp, Equuleus, La Indiana, Las Monjitas, Old Hickory Bourbon, Park Place, Patagones, Pilot, Postage Stamp Farm, Santa Clara and Tonkawa.
"It's an honor to work with these 14 teams," said J. Michael Prince, president and CEO of U.S. Polo Assn., the global brand associated with the USPA that is sponsoring the series.
To learn more about the Gauntlet of Polo, visit www.uspolo.org/gauntlet-of-polo. For information about all Gauntlet of Polo games, visit www.internationalpoloclub.com. Tickets can also be purchased on game day at the gate or by phone at (561) 282-5334.