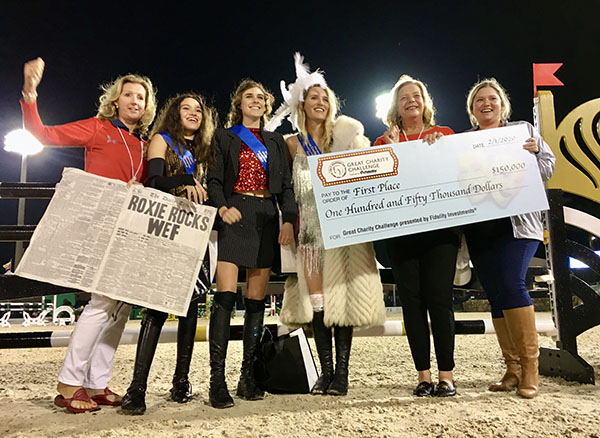 Wearing bright costumes inspired by the Broadway show Chicago, riders Jessica Mendoza, Caroline Mawhinney and Ana Sofia Rodriguez rode their partnering equines to victory on Saturday, Feb. 1 at the 11th annual Great Charity Challenge, presented by Fidelity Investments.
Exuberant applause rang through the Palm Beach International Equestrian Center in Wellington when the team, representing the Spirit of Giving Network, clinched the competition in a nail-biting finish of 94.912 seconds.
As a result, Spirit of Giving, a nonprofit organization committed to supporting children and families in Palm Beach County, took home the night's grand prize of $150,000 — the largest share of approximately $1.3 million given away to dozens of participating charities.
The Great Challenge is pretty simple. Each team of three riders is assigned a charity to represent, and each team has a turn at completing the course — a series of varying jumps — in the fastest possible time. The team with the fastest time at the end of the night is victorious.
The costume theme this year was Broadway Musicals, and the family trio of Daniel, Darragh and Sarah Kerins soared to second place dressed as cats from the hit musical Cats, winning a cool $125,000 for the local nonprofit Wellington Cares. David Blake, Carly Dvorkin and Madelyn Ruskin wore garb from The Great Gatsby and took the third-place prize of $100,000 for the charity Vita Nova.
None of the charities represented in the friendly yet competitive event left empty-handed, however, as participation alone guaranteed each nonprofit a $15,000 award.
The Spirit of Giving Network received an additional $3,000 grant as its riders won first place in the Best Costume category, as well.
"This is our third year participating, and we took a lot of time preparing our costumes and the horses," said Mendoza, who rode Flashback VDS. "It's amazing to go out there and win and, especially, to do it for charity."
Aboard Ballerine de Revel, it was also the third time participating for Mawhinney. However, it was a brand-new experience for Rodriguez, who rode Carolina du Toultia Z.
"It was really important to me because I got to represent a charity and help it to have a better year," said Rodriguez, a 15-year-old rider from Guatemala. "It makes me happy because you're helping the world a lot, and they're improving the world."
Each team has sponsors, and theirs was team sponsor the Van Kampen Foundation and corporate sponsor CGM Farms.
The Spirit of Giving Network aims to provide essentials to individuals in need.
"With some of the Great Charity Challenge funding from last year, we were able to implement a women's room, where we were able to provide feminine clothing and products for women," Spirit of Giving Board Member Susan Diener said. "Also, through our holiday gift drive, we try and provide meaningful gifts for more than 6,000 children in the area."
With the much larger check from a first-place win, the nonprofit will have more money to support the community.
"We have an event next month — our Community Spirit Race," Executive Director Lindy Harvey said. "We actually have 34 nonprofits signed up underneath us to help them raise money. So, we're going to use some of [the winnings toward] that."
Many other prizes were awarded as well, including random drawings resulting in giant $10,000 checks — courtesy of the Ziegler Family Foundation — to five organizations: Urban Youth Impact, Place of Hope, HomeSafe, the Literacy Coalition of Palm Beach County and the Lord's Place. Local digital agency Achieve awarded a social media advertising grant valued up to $18,000 to HomeSafe to support its efforts to protect victims of child abuse and domestic violence.
The annual Great Charity Challenge was founded 11 years ago by Equestrian Sport Productions CEO Mark Bellissimo and his daughter Paige to assist nonprofits in Palm Beach County in helping to meet the many needs of the community.
"It was established by my daughter and I to really target the great families that are in Wellington and provide an opportunity for them to connect with the community at large in Palm Beach County," Mark Bellissimo explained.
Paige Bellissimo is herself a competitor in the Great Charity Challenge. This year she dressed as a "mean girl" from the show Mean Girls. The smiley young woman, however, is anything but a mean girl. While her team didn't take one of the top spots, she expressed deep happiness at the impact the event has on the community.
"I'm just so grateful for, one: all of the organizations that we got to support through this — you're the ones who are doing the work in the communities with the most vulnerable populations — and then the riders who donate their time and horses, too," Paige Bellissimo said. "It's just one of the most fun events. I'm a bit biased, but no matter who wins, we're all so excited because it's making a difference in our backyards. I think that's a really cool feeling."
Over 11 years, the Great Charity Challenge has distributed $14.8 million to 256 local organizations, with $1.3 million given this year alone. "This event is very important to us as a partnership in that it gives us an opportunity to really show what is great about the equestrian community, both in terms of spirit and philanthropy," Mark Bellissimo said. "To all the charities out there, thank you for all you do in this community."
To learn more about the Great Charity Challenge, including its impact on the greater community, visit www.greatcharitychallenge.com.