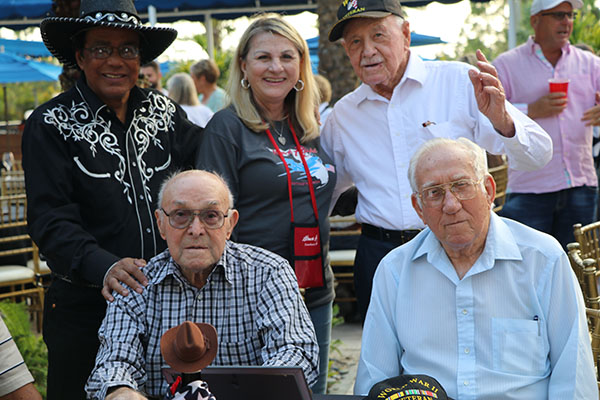 American hero and World War II veteran Carmin Yannotta of West Palm Beach, who survived D-Day on Normandy Beach and the Battle of the Bulge, is a familiar figure at the annual Buck Off Challenge that raises money for the Southeast Florida Honor Flight.
Yannotta, who turns 96 on Aug. 14, will be one of the judges at the popular Buck Off Challenge, a family-friendly mechanical bull-riding competition, scheduled for Friday, March 13 at 6:45 p.m. at the Wellington National Golf Club at 400 Binks Forest Drive. Practice rides begin at 6 p.m. and are $10 each.
There will also be a separate practice time on Thursday, March 12 from 6:30 to 8:30 p.m. at the golf club, sponsored by Happy Endings Farm. All practice rides are $10 per person.
Both nights are open to the public to support the organization and local veterans.
The Buck Off Challenge benefits Southeast Florida Honor Flight, an all-volunteer nonprofit organization that flies World War II, Korean War and Vietnam War veterans to Washington, D.C., to visit the memorials built to honor their service and sacrifices.
Four-person teams compete in the Buck Off Challenge, where individual rides are scored by a panel of celebrity judges and totaled to determine the winning team. Riders are scored on their ability to stay on the bull while keeping one hand in the air at all times and the style of the ride. Higher scores may be achieved for character, team spirit and costumes. Prizes are awarded to the top three teams.
A limited number of individual reserved seats are available at $50 for adults and $25 for children under 12, including a barbecue dinner buffet and a cash bar. General admission/unreserved seating tickets are $10 each.
The entry fee is $200 per team, which includes a buffet dinner and the cash bar, or $100 per team just to compete.
All tickets can be purchased at www.honorflightsefl.org. To register a team, contact event director Bobbi Rottman at (561) 436-1165 or bobbi@equessolutions.com.
Several veterans are expected to attend the Buck Off Challenge. There will also be a silent auction and several vendors at the event.
The main sponsors are philanthropists Sanjiv Sharma and Nadine Allen of Highland Beach, Professional Bank, Janet Hoose, Carolex Stables, IDA Development, IDA Farm, Happy Endings Farm, Carl Schachter of Northwestern Mutual, Laas Equestrian Real Estate and Texas de Brazil.
The next trip for Southeast Florida Honor Flight is scheduled for Saturday, April 11. For the veterans, it is a day to reflect on those heroes who never came home, on connecting with fellow military compatriots and on the fact that America has not forgotten them. For everyone else, it is day focused on thanking these courageous men and women for serving the nation.
"The veterans are treated like rock stars on their Honor Flight," Southeast Florida Honor Flight chair Janet Hoose of Lake Worth said. "I'm honored and privileged to help honor these heroes. The Buck Off Challenge is a fun way to raise money to help our veterans."
For more information about Southeast Florida Honor Flight, visit www.honorflightsefl.org or www.facebook.com/honorflight.
This event is organized by Eques Solutions. Contact Event Director Bobbi Rottman at (561) 436-1165 or bobbi@equessolutions.com for sponsorship opportunities.