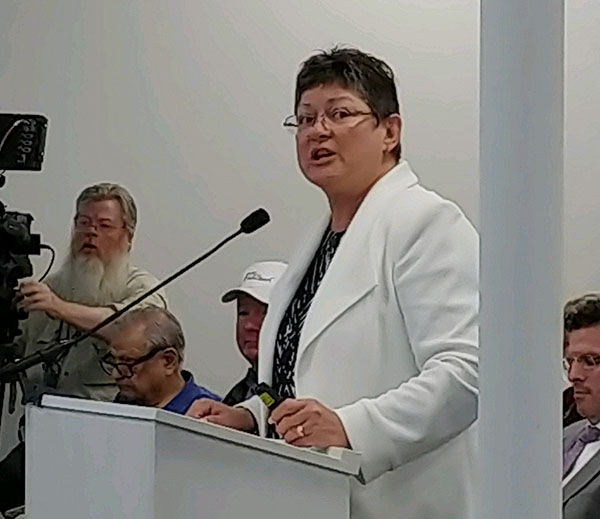 In a 16-5 vote, the Palm Beach Transportation Planning Agency Governing Board approved an amendment on Thursday, Feb. 20 to put the long-delayed State Road 7 extension back on its long-range planning map, backtracking on a board decision in December to remove it.
The December vote was 9-8 to remove SR 7 after West Palm Beach Commissioner Joseph Peduzzi tacked an amendment onto a motion by Boca Raton officials to remove certain south county roads from the long-range plan. The vote left at least one TPA board member confused as to what she had just voted for.
Since no one on the prevailing side proposed to reconsider the vote, District 6 County Commissioner Melissa McKinlay offered an amendment to the motion at the TPA's meeting last week to put the SR 7 extension back on the long-range planning map. A three-hour hearing ensued, attended by at least 150 people who filled the new TPA offices in downtown West Palm Beach, overflowing into adjacent meeting rooms.
"We are here to discuss a resolution approving amendment number one to the TPA's 2045 long-range transportation plan," said TPA Chair Maria Marino, a Palm Beach Gardens councilwoman, explaining that the amendment would actually add two projects back to the LRTP, the widening of SR 7 from two lanes to four lanes from Okeechobee Blvd. to 60th Street North in fiscal year 2024 at a cost of $20 million, and a new four-lane roadway from 60th Street North to Northlake Blvd. the same year at a cost of $53 million.
About 50 public comment cards had been submitted, and Marino limited comments to one minute. "As we have several presentations, I would ask that we hold any questions to presenters until all presentations and public comment have concluded," she said.
John Krane, planning and environmental manager for Florida Department of Transportation District 4, said the approximately 5-mile segment would provide regional connectivity between two arterial roadways, Okeechobee and Northlake boulevards, to provide relief for existing demands, as well as for several planned and/or approved projects in the area and enhance emergency response.
"There's going to be a lot more traffic in the area to add to the congestion that's already there," Krane said, adding that vehicle crashes on existing arterial roadways result in long traffic delays that could be mitigated by the SR 7 extension.
Krane added that most all the rights of way have been procured, and at least 170 feet of right of way exist between the proposed route and the West Palm Beach water catchment area, which has been the point of contention by West Palm Beach on environmental and potential pollution concerns. He also pointed out that the proposed right of way has been on the FDOT plan in various iterations since 1948, and numerous public input meetings have been held in recent years on the current proposed route.
He further pointed out that the proposed extension has the support of the Port of Palm Beach, Royal Palm Beach, Wellington, Loxahatchee Groves and the Indian Trail Improvement District. The number of comments received by FDOT by Feb. 18 were 1,100 for the project and 109 opposed.
Attorneys and transportation engineers representing the City of West Palm Beach said the amendment is not consistent with the city's comprehensive plan and does not address environmental mitigation efforts sufficiently. They further asserted that the public input process was flawed by a lack of transparency, adding that the need for the extension has not been demonstrated and the cost estimates were unreliable.
West Palm Beach officials also questioned FDOT's traffic counts, suggesting that the volume of traffic on the extension anticipated by 2045 would be about half volume capacity, and that traffic leaving the existing extension into roads in The Acreage were not exceeding capacity.
ITID President Betty Argue gave a presentation on behalf of all the western communities but said that The Acreage would be most directly impacted if the SR 7 extension were not built, due to the continued influx of non-residential through traffic.
"Our residents moved here for the safe, clean and quiet environment that promotes a community-oriented lifestyle that contrasts with all the development in surrounding areas," Argue said. "Our environment is within the economic means for teachers, fire-rescue professionals, law enforcement officials and government employees."
She pointed out that ITID built and maintains most of the roads in The Acreage, and failure to construct the SR 7 extension would invite the further incursion of traffic onto ITID's local, privately maintained roads.
"Our issue with the State Road 7 extension's removal, you want to talk about transparency, there was no consultation with the central western communities, specifically Indian Trail, about the additions and deletions most directly affecting us that were made at the December meeting," Argue said. "In addition, that last-minute motion to remove State Road 7 did not allow for public comment, it was not on the agenda, nobody was apprised that this was going to happen, and it ignored decades of data, community input and efforts by the county, FDOT and the TPA relating to State Road 7. Today is the opportunity to right that wrong and make sound decisions based on decades of data supporting the State Road 7 project."
Argue added that West Palm Beach approved the development of the communities of Ibis, Andros Isle, RiverWalk, Baywinds and Ironhorse, and related commercial development, adjacent to the water catchment area, and created a new tax base of $2.5 billion that was diverted to redevelopment of the coastal portion of the city. She also pointed out that the existing 20-mile roadway network surrounding the water catchment area, approved by West Palm Beach, as well as about 56 miles of internal roads within the developments surrounding the water catchment area, which are allowed to discharge there, were designed and constructed without nearly the rigorous criteria required of the proposed SR 7 extension.
"Our question is, if the above development projects did not pose a negative impact when it was designed and constructed, then we must ask, how a properly designed, permitted, constructed and inspected 4-mile roadway extension using 21st century techniques and technology create an environmental risk for catastrophe?" she asked.
ITID traffic engineer Joe Capra pointed out that the district is developing a traffic-calming network partially funded by the TPA to try and regulate through traffic that has already become an issue in The Acreage.
Capra said expansion of existing two-lane roadways in the district would necessitate the taking of almost 400 homes to create the required right of way. He also pointed out that there has been a 71 percent increase in traffic accidents in ITID over the past five years.
"In Palm Beach County, that number is 7 percent," he said. "We have 10 times the number of accidents in this area. My point is, State Road 7 needs to be built. We cannot put more traffic on this area."
After hearing more than 50 public comments from residents and officials, mostly for reinstating the SR 7 extension, McKinlay said the SR 7 project is needed immediately to deal with the existing traffic congestion, as well as development that has been approved or is underway. She added that environmental concerns cited by West Palm Beach flew in the face of environmental concerns that the city itself created around the water catchment area.
TPA Board Member Michael Napoleone, a Wellington councilman, said he felt the presentation by Argue was fact-based and relevant, and felt that environmental concerns that have been raised were unfounded.
"My office overlooks Clear Lake, and Clear Lake is abutted by Okeechobee [Blvd.] and Australian [Avenue], and development all around it. Northlake [Blvd.] bisects Grassy Waters, so to say that adding this road along the side of it is going to create a possibility for an impact that does not already exist is specious at best," he said. "Now we've had a full public vetting of this issue, which we did not have at the last meeting, so if you want to question the process, this is the better process to discuss it, not what happened in December."
After the discussion was finished, a roll call vote was taken, and the result was 16-5 to reinstate SR 7, with Boynton Beach Mayor Steven Grant, West Palm Beach Commissioner Christina Lambert, West Palm Beach Commissioner Joseph Peduzzi, Delray Beach Mayor Shelly Petrolia and County Commissioner Gregg Weiss dissenting.