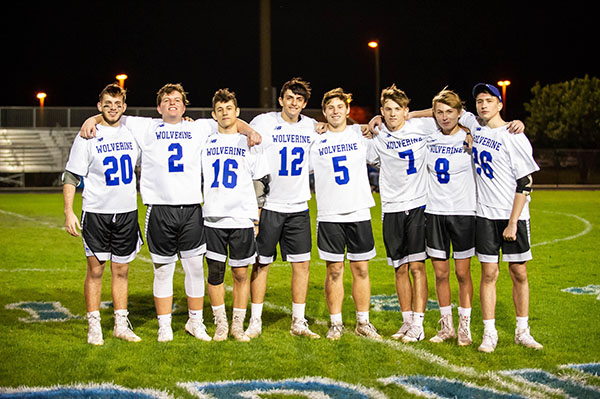 On Friday, Feb. 21, the Wellington High School boys lacrosse team hosted Park Vista High School and dominated the Cobras 20-4 on senior night. With the win, the Wolverines improved to 2-0 on the season.
Ten different players scored goals for the Wolverines, combining for the 20 goals. Teddy Miloch led the way with seven on the night. Andrew Crosby totaled three goals and two assists. Two other Wolverines recorded hat tricks, Ryan Anthony and Aaron Thompson.
Wellington scored often from the onset and led 14-2 at the half. The Wolverine defense held the Cobras scoreless most of the half, until Park Vista grabbed a late goal before the horn.
Wellington's eight seniors were honored during the halftime festivities: Connor Anthony, Teddy Miloch, Andrew Crosby, Bryce Schwager, Matthew Granaroli, Aaron Thompson, Kylle Epstein and Jeremiah Rogan.
The Wolverines racked up six more goals in the second half with precision passing and ball control, while the Cobras put together some offense as well, putting in two more goals to close the margin. By the final horn, it was the Wolverines that remained unbeaten on the season.