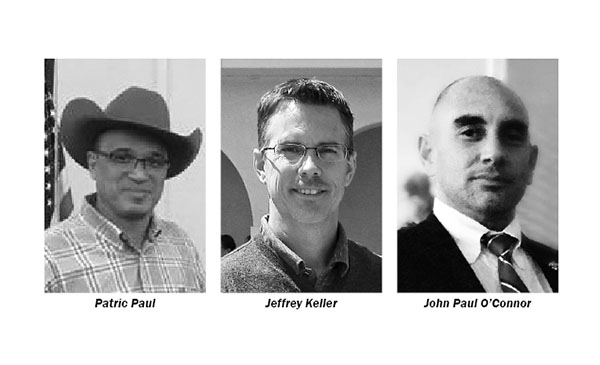 Three candidates qualified to run last month for two open seats on the Westlake City Council. However, qualifying will be reopened due to an advertising error, although the election set for Tuesday, March 31 is not expected to change.
The original qualifying period, set in the town charter as the last Tuesday in January through the second Tuesday in February, was reset to Tuesday, Dec. 31 through Tuesday, Jan. 14 because the charter dates did not coordinate with the dates approved by the Palm Beach County Supervisor of Elections Office.
The new dates were supposedly approved at two special council meetings on Dec. 16 and Dec. 30. However, there appears to have been a glitch somewhere in the process.
During the qualifying period ending Jan .14, candidate Patric Paul qualified unopposed for Seat 1, while candidates Jeffrey Keller and John Paul O'Connor qualified for Seat 3.
Neither of the two incumbents, John Stanavich and Phillip Everett, filed to run. Both were appointed to the council by developer Minto upon incorporation. Stanavich did not meet the one-year residency requirement. Everett did, but did not file.
Westlake will hold its first municipal election on Tuesday, March 31, concurrently with the runoff date set for the county's March 17 municipal elections. If a runoff is required after the Westlake election, it will be held on Tuesday, April 14 or Tuesday, April 21, depending on the availability of the Supervisor of Elections Office to conduct the vote.
City Manager Ken Cassel, at a coffee with the city manager event on Tuesday, said an advertising error brought on the necessity to reopen the qualifying period.
"We have to re-advertise. All of it will be explained at Monday night's meeting," he said, referring the council's upcoming meeting on Feb. 10. "That's where I can go for right now, but it boils down to that."
He said the error will reopen the qualifying process, and that the new qualifying period will be explained at Monday's meeting. He explained that setting a new qualifying period will require passage of a new ordinance. "Monday night is first reading of the ordinance, with the second reading on Feb. 24," Cassel said. "The election is still on March 31."
He added that there is some confusion between Westlake and the Supervisor of Elections Office. "For some reason, we're not on some of the lists, so when they send out stuff to everybody else, we don't get noticed, so we're always playing catch-up," Cassel said.
With qualifying reopened, the current candidates may find themselves with new challengers.
Currently unopposed, Seat 1 candidate Paul is an automotive technician at a Volvo dealership. He said he is running because Westlake is new, and he hopes he can make an impact in some way in the development of the community. He said he would like to ease tensions between Westlake and its neighboring communities, whose residents have expressed resentment at the impact the burgeoning new city may have on the area.
"There seems to be a lot of tension," Paul said. "Hopefully, I can help ease that and make it a little better. I lived in Texas in a very rural area, and I can very much understand people's feelings and emotions."
He hopes that Westlake will give smaller businesses a better chance at succeeding there. "A lot of the big chains are coming in," he said. "I'm not big on the chains taking over everything."
Paul has lived in Westlake since August 2018. "We've looked in Loxahatchee, and while we were looking for houses in Loxahatchee, we became aware of the area and new development, and the pricing of new houses, and the pricing was comparable to what I have," he said.
He said he became aware Tuesday morning of the necessity to refile his qualifying paperwork after new dates are set.
"Probably, there was a step that was missed, overlooked, not announced," Paul said. "The people who have applied so far are going to have to reapply, and whoever has not applied and wants to, and is eligible, can."
Seat 3 candidate Keller said in a written interview that he is a middle school science teacher. Originally from Miami, he has lived in Palm Beach County for 13 years. He has lived in Westlake since November 2018.
"I'm looking to be the positive and pragmatic voice for Westlake," he said. "The political climate right now is very polarized, no matter where you go in our country. I understand the importance of what both sides of the table are saying, and I want to bring that to Westlake."
Keller sees improved communication as a challenge to the city, both for residents and the surrounding areas.
"There's a breakdown in dialogue between many parties that is preventing positive progress," he said. "It simply isn't productive."
His vision for the community is for it to be a positive influence on the western communities. "The potential for the city to bring positive growth to the area is astounding, but it won't happen without being cooperative with other entities," Keller said.
He was attracted to Westlake after his mother-in-law and father-in-law moved in with him and his family.
"Westlake provides a beautiful home that is big enough for six people at an affordable price," Keller said. "The surrounding area in the western part of the county is incredible. The two combined provide an ideal place to own a home."
Seat 3 candidate O'Connor, an audio-video integration specialist and information technologies consultant for a private airline, is a native of South Florida. He has lived in Westlake since November 2018.
O'Connor is running because he feels Minto did a good job in laying the foundation for a great, up-and-coming city.
"That being said, many details were overlooked. Our city needs strong leadership and someone looking out for us, the residents," O'Connor said. "I want to do my part in helping Westlake flourish into the great and prosperous city that I know it has the potential to be."
He feels one of the greatest challenges the city may face as a new and rapidly growing city is the need for expanding the arterial road system.
"Once we have the planned 4,500 homes, as well as retail and commercial spaces, the expansion of Seminole Pratt Whitney [Road], 60th [Street] and Persimmon [Blvd.] will prove vital in reducing the inevitable traffic congestion," O'Connor said.
His vision for the community is for it to be a forward thinking, fun and inviting city with boutique-style shopping and dining outlets.
"I envision microbreweries and gastro pubs for the adults and a modern carousel for the kids," he said. "I want to see golf carts everywhere. I envision Westlake becoming the most envied city in Palm Beach County and the place that every resident is proud to call home."
O'Connor said that his fiancé, Kailey, was the driving force in their decision to move to Westlake.
"I immediately saw the potential in what the area had to offer, and Kailey and I knew that this was the place where we wanted to start a family," he said.