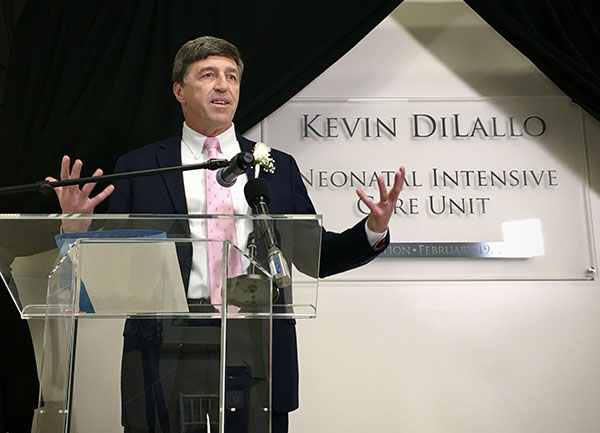 Wellington Regional Medical Center's neonatal intensive care unit received a new name Wednesday, Feb. 19, in honor of former WRMC CEO Kevin DiLallo.
During his 12 years leading the hospital, DiLallo oversaw the construction of many medical office buildings on the campus, as well as the expansion of the hospital itself and its emergency room. Serving first as the hospital's chief operating officer before becoming CEO, DiLallo was instrumental in establishing the only Level III NICU in the western communities.
While DiLallo has since left WRMC to be named group vice president for the Manatee Healthcare System, also run by WRMC parent company Universal Health Services, his crucial efforts at expanding the hospital continue to pay off for the good of the community, and in particular, it's youngest, most vulnerable patients.
"Kevin has been a tremendous leader for more than two decades with Universal Health Services," said Alan B. Miller, the company's chairman and chief executive officer. "His contributions, not only to the NICU, but the expansion of the ER, the construction of new buildings and service line growth helped Wellington Regional start the path it remains on today."
Miller attributes much of the hospital's current success to work done by its former CEO a decade ago. "Kevin is highly regarded among our community partners. Our communities count on him, and he served as a role model, enabling our facilities to have superior quality care," Miller said. "And one of the reasons that Manatee and Wellington are so well respected is because of Kevin."
DiLallo, who spent the morning and early afternoon smiling, shaking hands and catching up with old friends and colleagues, stood before a clear plaque sporting his name in capital letters and humbly accepted the prestigious honor.
"Even though it's named after me, there's so many people who were part of this, and the community and hospital and the staff, so it's really a tribute to everybody," DiLallo said. "They take care of the patients here, so my name is on there, but everyone — all the staff here, everybody who's participated in this — it's their NICU, and the patients are benefiting from it."
More than 10 years ago, DiLallo and his team recognized a need for a neonatal intensive care unit but had limited space with which to work. Ten beds were required for a Level II NICU, but even half of that was too many at the time.
"When we established a Level II, we had no room in the house to do that. So, we went to the state and we asked, 'Can we put four beds in here somewhere?'" DiLallo recalled. "We found a little room down in the old section… and the state was gracious enough to allow us to put those four beds in. They hadn't done that any time before in the history of the state."
Much like many of its occupants, the NICU grew at a healthy pace. Later, after the completion of the new emergency room, WRMC had the space to construct a Level III NICU with 25 beds.
"I sat in this NICU — with about two babies — with sweat pouring down my brow saying, 'How are we going to fill this thing?' It was crazy. I had 25 beds!" DiLallo said. "But shortly after that, the babies came, the volume came and everyone in this room helped in supporting it."
From prematurity to cardiac illness, as a Level III NICU, the Kevin DiLallo Neonatal Intensive Care Unit can offer constant, critical and specialized care for newborns facing any number of complications. Treating approximately 300 patients a year, the NICU has grown tremendously.
For families with children in the NICU, DiLallo explained, proximity is key.
"It's disruptive if parents need to go somewhere else to see their child," he said. "They can stay in this community, they don't have to move, they don't have to drive to see their child. And this is great care; this is quality care. This is what you want in this community."
According to Kimberley Masterson, Wellington Regional's director of children's services, one in 10 births require neonatal services.
"Having these services here keeps our patients and our families close," Masterson said. "They don't have to go anywhere else to meet the needs of their children."
To date, the NICU's smallest baby was 12 ounces, born at 23 weeks. Now, four years later, that child is healthy and active.
"If we can make a difference in one life, I think that's why we're here in healthcare," Masterson said.
In its 11th year of operation, workers in the neonatal intensive care unit continue to fight for the lives of the hospital's most vulnerable patients, and now this mission is publicly credited, in part, to Kevin DiLallo.
"The NICU officially opened in January of 2009, and we couldn't have done it without Kevin," Miller said. "Because of this, the teeniest and the sickest babies in our community were able to receive tremendous care, and a number of lives have been saved."
To find out more about Wellington Regional's NICU, visit www.wellingtonregional.com/nicu.