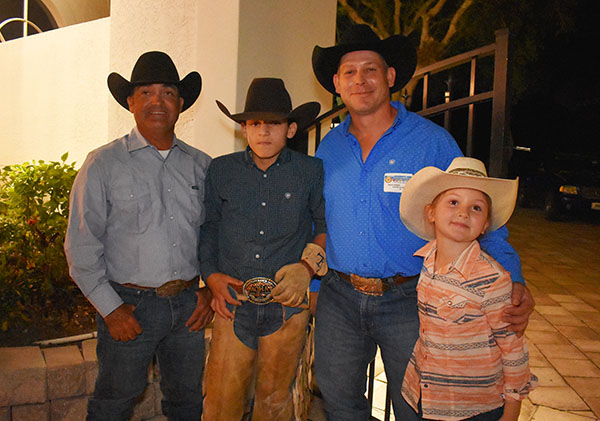 The third annual Buck Off Challenge was an awe-inspiring success, raising a record amount of money to benefit Southeast Florida Honor Flight.
The mechanical bull-riding Buck Off Challenge was held Friday, March 13 at the Wellington National Golf Club before an appreciative crowd that raised more than $38,000 for the Stuart-based nonprofit. Each flight costs more than $100,000 to bring 80 veterans to Washington, D.C., free of charge.
Southeast Florida Honor Flight normally transports World War II, Korean War and Vietnam War veterans to Washington, D.C., to visit the memorials built to honor their service and sacrifices four times per year. The next two trips that were scheduled for April and May 2020 have been delayed until the fall because of the COVID-19 health crisis.
The Real Bucking Deal won its third consecutive championship with a total of 397 out of a possible 400 points. Thirteen-year-old Trent Ferrier earned a perfect 100 score to lead the Real Bucking Deal and was helped by superb performances from 8-year-old Avery Mills, her father Donnie, and his father, Andrey.
Team Professional Bank dressed as fighter pilots to form the Danger Zone and earned the Most Entertaining Team prize.
Celebrity judges were former NFL running back Ladell Betts, entrepreneur Spero Georgedakis of Good Greek Moving & Storage and prominent real estate brokerage owner Ryan Beckett. But the biggest celebrity and crowd favorite among the judges was 95-year-old World War II veteran and American hero Carmin Yannotta of West Palm Beach, who survived D-Day and the Battle of the Bulge. The audience cheered extra loud encouragement for the youngsters under 6 years old, who participated and added another layer of cuteness to the cause.
The main sponsors were philanthropists Sanjiv Sharma and Nadine Allen, Southeast Florida Honor Flight Chair Janet Hoose of Fuel Facility Management, Professional Bank and Carolex Stables. Other major sponsors included Carl Schachter with Northwestern Mutual, Happy Endings Farm, IDA Farm, IDA Development, Travis Laas of Laas Equestrian Real Estate and Texas de Brazil.
The event was designed and produced by Bobbi Rottman of Eques Solutions.
For more information about Southeast Florida Honor Flight, visit www.honorflightsefl.org.