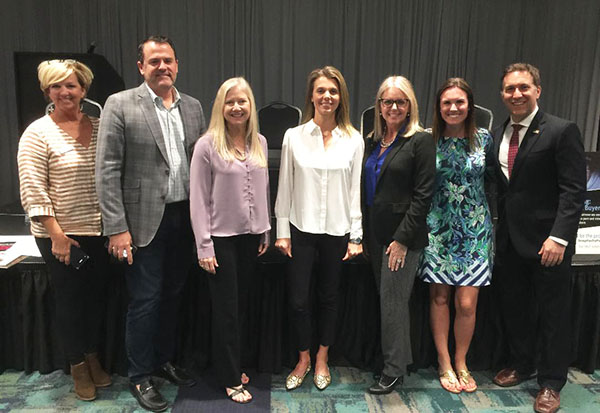 Working in cooperation with Place of Hope, the Village of Wellington hosted a special screening of the short film Invisible on Monday, March 9 at the Wellington Community Center to help educate attendees on the dangers of human trafficking.
Among the panel of speakers after the film was Great Charity Challenge Executive Director Anne Caroline Valtin, who has embarked on a mission to do something about human trafficking right here in Palm Beach County over the last few months. She stressed that knowing and talking about human trafficking can make a huge difference. "It isn't about money," she said. "We need to start talking about it to prevent it from happening in our communities."
Joining Valtin on the panel were State Attorney Dave Aronberg, County Commissioner Melissa McKinlay, Wellington Mayor Anne Gerwig and Place of Hope's Founding CEO Charles Bender. They answered many questions that the audience presented, and each shared their involvement with the cause.
Florida is ranked third in the nation for reported cases of human trafficking, and top industries for trafficking include agriculture, domestic work, hotel work and escort services. Human trafficking is estimated to affect 20 to 40 million people globally, and less than one percent of human trafficking victims are ever rescued from their situations.
The panelists urged those in attendance to continue sharing this information and help to promote awareness of the issue. They went on to share some red flags that can help identify possible cases of human trafficking. It can be as simple as noticing a younger person traveling with an older person who doesn't appear to be allowed to speak for themselves; individuals who turn away when spoken to or who don't make eye contact.
Perhaps you might see locations that appear to be retail or service-oriented store fronts, but food and storage leads you to believe that perhaps these workers are sleeping in the back. It could be a sign of human trafficking.
What should you do? Call the human trafficking hotline at (888) 373-7888 and share what you've seen.
Mary Lou Bedford, CEO of the Central Palm Beach County Chamber of Commerce, was in attendance and recommended that everyone there take out their cell phones and include the hotline number in their contacts, making it much easier to call.
Invisible is a documentary exposing the epidemic of human trafficking that is happening in our own backyards. Human trafficking is a form of modern slavery where people profit from the control and exploitation of others. Human trafficking is not only an overseas issue but is happening right here in Palm Beach County. In fact, the majority of people involved in human trafficking here in the United States are not from other countries but rather are American citizens.
Place of Hope is a faith-based, state-licensed children's organization offering services designed to end the cycles of abuse, neglect, homelessness and human trafficking. For more information on the documentary or the services offered by Place of Hope, visit www.placeofhope.com.
Learn more about the national issue of human trafficking at www.humantraffickinghotline.org and www.polarisproject.org.