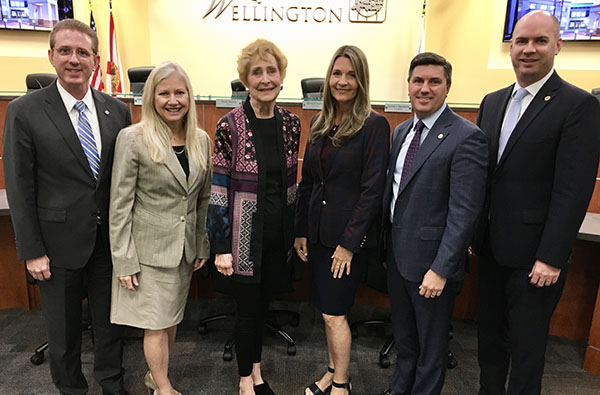 Former Wellington Mayor Kathy Foster received a special surprise Tuesday, March 10 when the Wellington Village Council decided to add her name to the Founder's Plaque on display at the Wellington Municipal Complex.
After not adding anyone to the plaque since 2013, Foster's is the second name added to the plaque over the past month. Former Mayor Tom Wenham, the village's first elected mayor, was added at the Feb. 25 meeting.
While Wenham was the first elected mayor, Foster was Wellington's inaugural mayor. She played a pivotal role in the incorporation of Wellington 25 years ago and sat on the board of the Acme Improvement District, Wellington's pre-incorporation government, before being elected to the inaugural Wellington Village Council upon incorporation. She was appointed mayor by her fellow council members at the new village's very first council meeting.
The sound of applause drowned out her footsteps as the visibly moved Foster accepted the invitation to the podium. There she was met with words of thanks, encouragement and appreciation for her service to Wellington, offered by current council members.
"It was clear to me that we hadn't put anyone on the Founder's Plaque in seven years, and there were names to me that were clearly missing," Councilman John McGovern said. "The two people that I think set the course for this village and where we are today are Kathy Foster and Tom Wenham."
McGovern went on to express how he found it appropriate that Foster, the first mayor and first female mayor of Wellington — as well as the first woman whose name is to be placed on the Founder's Plaque — should receive this honor during Women's History Month.
"I've talked a lot about the fact that I grew up in this community, and for me, the only example of what government was in those days was my family's friend, Kathy Foster," McGovern said.
According to McGovern, when he joined the council in 2015, the first person he wanted to talk to was Foster. He met her later for dinner in order to get advice on how to do the job well.
"Every day, I try to live up to the things that she told me at that dinner," McGovern said. "You truly are the founder of Wellington, the village."
Councilman Michael Drahos remembered Foster from a time in his childhood when his father, active in local sports programs, brought him to an Acme Improvement District meeting to ask for field lights.
"I had no idea how budgets work or anything, but I remember going into the room and looking up and seeing Mayor Foster," Drahos said. "I had such reverence for you that I think the best compliment I could give you right now is that I still look at you with the same degree of reverence. And you've earned that respect."
Drahos thanked her for serving as an example for all future council members.
"This is just one small token of appreciation, that I can play one small role in giving you, to say 'thank you' for the town you built that I grew up in," he said.
In addition to her work with the village, Foster also founded Wellington Cares, a nonprofit volunteer organization that assists the elderly in Wellington through service and friendship.
"Wellington Cares is an organization that deals with seniors, and it wouldn't be here if it weren't for you," Village Manager Paul Schofield said. "And I see the benefit of that every single day, especially now that I'm one of them."
"Me, too," Foster smiled.
Other than Foster, there has only been one other female mayor of Wellington, and that's current Mayor Anne Gerwig.
"We really have stood on the shoulders of those who've come before us. I'm so proud to call you friend — and to ask for your design advice," Gerwig told Foster, who has also worked as an interior designer. "I know that everything you do works out beautifully, including this village."
Foster listened with an air of humility and thanked the council when it was her turn to speak.
"The opportunities to participate, and to make a contribution to long-term benefit, not just for the community, but for my family and for my grandchildren — who are here tonight — is really a blessing," Foster said. "It has been an honor and a privilege to be part of this community, and to give back to the people that I've shared the majority of my life with. So, thank you very much for the honor. I'm really surprised."
Foster's name has yet to be added to the plaque, but a ceremony will be held when the new names arrive.