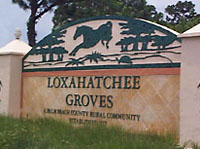 The Loxahatchee Groves Town Council approved hiring a legal firm Tuesday, March 3 to represent the town in a lawsuit filed by Seth Brier, the owner of a 15-acre parcel on B Road, 0.2 miles north of Southern Blvd.
In December, the council denied a request by Brier that would have changed the land use on the property from low intensity residential to multiple land use in order to incorporate other low intensity uses on the property.
Brier contends that his property, where he once operated a feed store until town code enforcement closed it down, is surrounded on three sides by commercial operations: the 90-acre Groves Town Center immediately to the south of the Brier property where an Aldi grocery store, bank and Wawa convenience store are being built, the Loxahatchee Groves Commons retail plaza containing the Publix grocery store and Tractor Supply store, and Palm Beach State College, which has an entrance immediately west of the Brier property.
However, the Brier property does not have an entrance on Southern Blvd., which is required by the town charter in order to operate a commercial enterprise.
Town Attorney Brian Shutt explained that the agreement before the council that evening was to employ the law firm of Johnson, Anselmo, Murdoch, Burke, Piper & Hochman to represent the town in the latest case that Brier has filed against the town.
"He currently had an ongoing case against the town based on his property on B Road, and that case is covered by our insurance carrier," Shutt explained, noting that the defense counsel in that matter is Mike Burke with the Johnson Anselmo firm. "When we got this case, we reached out to the town's insurance carrier, they said no because in this particular case, Brier's attorney is only alleging declaratory relief and injunctive relief, where he's not demanding damages, and this is based on the decision the council made not to approve the comp plan amendment."
Shutt said insurance coverage and defense cost is not warranted in the most recent case because there is no compensation involved.
"Therefore, we are on our own on this," he said. "My suggestion is that we also have Mike Burke defend us in this case, to which he has agreed, and because he is also aware of the current case, and this case is similar to the current case that we have, I think it would be a cost savings to have the same attorney who is currently defending us in the underlying case."
Shutt explained that Brier is asking the court to determine that the town erred in its decision not to grant his comp plan amendment. He believes that will be a difficult case to make because courts normally stay away from legislative determinations.
Councilman Dave DeMarois said he was curious about a possible ruling because it is similar to a decision that was made against the town regarding its initial refusal in 2014 to grant the owners of the Day property permission to develop their 10-acre site on Okeechobee Blvd. at Folsom Road.
The council had refused initially to approve commercial development on the land, although town staff had advised that under the comp plan and land use code, the owners were entitled to commercial development there. The decision was subsequently overturned in court.
Shutt added that he felt the recent case would not be protracted because there would be little or no discovery, but a simple determination whether the town and council had followed the rule of law.
Former Councilman Todd McLendon asked if the $175-per-hour attorney fee included paralegal and other services. "Are we going to pay $175 for paralegal or any of those other employment services that we would have?" he asked.
"My understanding is that it is for attorneys' services," Shutt said. "I will confirm that with him, but it's my understanding that this is covering attorney services."
DeMarois made a motion to approve the agreement, which carried 5-0.