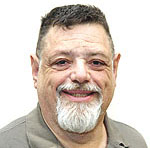 'I' ON CULTURE
Some TV shows quickly move beyond simply hit status to become phenomena. One is The Masked Singer, currently getting huge viewership on Fox Wednesday nights. Based on a Korean reality show King of Mask Singer, the format now is being used in 50 countries. So, what is the fuss about?
A group of anonymous singers perform in costume in front of a group of the ditziest celebrity panelists found almost elsewhere, with (usually) one of the contestants unmasked each week. Simply looking at the contestants tells us nothing. They wear elaborate costumes designed by Emmy Award winner Marina Toybina. The costumes cover them from head to toe and are incredibly elaborate. Contestants have appeared as assorted animals, plants and even a taco. An elaborate introduction is made each week with an assortment of really obscure clues presented rapidly, while the contestant, using voice altering technology, provides a weird kind of story about how they are totally enthused about being in the contest. As an aside, the producers have had to upgrade the tech each year as devoted techie fans figure out how to manipulate the recordings of voices to take out the distortion and thus guess the contestants.
Then comes the best part of the show. The contestants sing. They are all, to one degree or another, celebrities. Some of them are not professional singers and, strangely, they sometimes beat the professionals. Watching repeats, I have seen skateboarders, ice skaters, doctors and some others. They usually are not terrible. A really bad singer, like myself, could never do that. Occasionally, there are pleasant surprises. NBA star Victor Oladipo who was in costume as "Thingamajig" (and no, I can't describe it adequately) had a great voice and singing manner. But the real fun is with the professional singers.
There have been quite a few top-notch singers, and some of them have not lasted as long as expected. In its current, third, year, we have seen vocal stars Patti LaBelle, Chaka Khan and Dionne Warwick eliminated. But that is part of the fun. When audiences have no expectations, they often choose strangely.
Right after singing, the contestants are "grilled" by the celebrity panel. There is always praise, which is nice. Then the celebrities demonstrate why they have been chosen. Robin Thicke is the straight man. He discusses singing intelligently. The others often ignore him. Jenny McCarthy Wahlberg, perhaps best known for being a Playboy centerfold before becoming a celebrity, has a lot of fun running down the craziest clues. At one point, she seemed pretty certain that one of the performers was her own husband. She was wrong. And Nicole Scherzinger, lead singer of the Pussycat Dolls, tends to flirt with almost all the male singers. At one point, she described herself as "Mrs. Thingamajig." But the true nut and delight is comedian Ken Jeong. He generally comes up with elaborate reasoning that is mostly totally wrong…except a couple of times he actually was the only one who was right. Host Nick Cannon seems to love the job.
After all of that, the audience votes for their favorite contestant, and the one with the fewest votes loses and then unmasks to cries of "take it off, take it off." Now, having done a minimal amount of research, I know that the audience does not actually see the loser. They are filmed but, through the magic of television, the losers are taken off and get hair and makeup redone, and are filmed separately.
But people love the show. I enjoy it. Why? Because it is brainless. Half the scripted shows on TV, possibly more, are police shows where we have increasingly horrendous crimes. And medical shows that really provide nightmares in this time of the coronavirus. Many reality shows only pretend that we are seeing the real world. This show is nonsense. Yes, the singing is real, and it is very good. Frankly, I am gaining a new appreciation of recent music. And then I can go to bed and dream of singing animals and flowers. This probably should have been a Disney movie.
If you would like some brainless fun where you can relax and pretend that the world is not a nasty place, this show is for you.