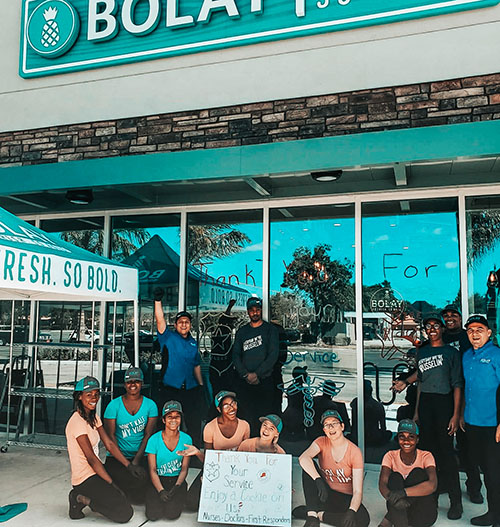 Bolay, a local restaurant chain, took the state of the unknown and embraced it by doing what they do best, serving great food to local heroes. On Wednesday, April 1, more than 3,000 heroes on the frontlines of the COVID-19 pandemic were greeted with a complimentary Bolay bol and a smile.
Four years ago, Bolay set out on a mission to inspire guests with fresh food and living bold. Like any startup, the first few years are always the toughest, and to say Bolay hasn't been sent for a tailspin would be an understatement.
"Preparing for a sudden pandemic is something I don't think anyone was or could have been fully prepared for," CEO Chris Gannon said. "Hurricanes are what we know down here in Florida and they always come with somewhat of a heads up, but this is different."
Bolay had to pivot quickly, to ensure that teams and guests were provided the best food in a safe and immaculate environment. But this doesn't mean that Bolay's philanthropic side of the business came to a halt.
"A core part of our ethos is to support our local community, and despite the uphill battle we are all fighting right now, we want to show our support to those who are seeing the impact first-hand." Gannon said.
First responders, which included law enforcement and healthcare workers, enjoyed a free Bolay meal on Wednesday, April 1 in addition to food donations being made to local hospitals throughout the week.
"We acknowledge the amount of pressure that has been put on these incredible members of our community and want to show our gratitude and appreciation," Gannon said. "We recognize that they don't have the safety net of working from home, and we believe it's our duty to take care of those who take such great care of us."
Bolay has the ability to reach thousands in the community and give fresh food in bulk quantities and family packs.
"The grocery stores were not prepared for the influx of people coming in and wiping out the shelves. Our restaurants are capable of providing fresh food, ready to heat and ready to eat, in large quantity," Gannon said. "We realized quickly that our healthcare heroes were not able to join us for the build-your-own bowl experience in our dining rooms. So, we set up curbside pickup tents, where they can order online and simply drive by as a team member with gloves and a smile hands them their order."
Bolay has also set up free contactless delivery so guests can stock up on their favorite items, without leaving their homes or essential workplaces.
"I am beyond impressed by how quickly our 900-plus team members have adapted to our temporary situation and how their attitudes continue to bleed our culture," Gannon said. "At a time like this, with so many unknowns, it's our culture that continues to strengthen and the all-in spirit really shines. I know this is something we will overcome and be stronger because of it."
Bolay takes a fast-casual approach to fresh, bold and flavorful food that invigorates the palate. Created by Chris Gannon and his father, Tim Gannon, co-founder of Outback Steakhouse, the restaurant invites diners to build bowls for lunch and dinner, packed with nutrient rich superfoods and tasty proteins. To learn more about Bolay, visit www.bolay.com.