By Mike May
Very few basketball odysseys begin in places like Blackburn, England, and find their way to Miami Shores, Florida, by way of Denmark, Bosnia and Estonia. And then get instructed by a Wellington coach with strong ties to England.
Well, that's one way to describe the basketball travels and adventures for England's Harriet Swindells, who has just completed her junior year of playing basketball for the Barry University Buccaneers. Barry University is a member of the very-competitive NCAA Division II Sunshine State Conference.
During this past season, one of Harriet's coaches at Barry University was longtime Wellington resident and former Wellington Wolves player Emily May, whose paternal grandfather was English-born and raised. May had spent the 2017-18 and 2018-19 seasons coaching women's basketball at St. Thomas University in nearby Miami Gardens.
The impact of Emily May's presence on the coaching staff this past season was strong and immediate.
"Coach Em [May] has been great for the team this season," Harriet said. "Her enthusiasm and energy showed every day!"
HER EARLY BASKETBALL DAYS
Harriet Swindells started her formal roundball career as a pre-teen when she played for a basketball club in nearby Manchester, England. She started playing hoops because of the influence of her older brothers. The family installed an outdoor basketball net at home when young Harriet was just four years old. According to Harriet's parents, she and her two older brothers played countless games of basketball during their childhood.
"Harriet, growing up with two older brothers, just followed what they did, so she played football [soccer] and basketball with them," said Stephanie Swindells, Harriet's mother. "The boys never gave her any free passes, so the only way she could get past them or score was to dribble or shoot from distance. She became very good at it and very tough."
After playing a few years of pickup basketball with her brothers, young Harriet finally had an opportunity to get some formal basketball instruction and coaching.
BRITAIN'S BASKETBALL CLUB SCENE
"I started officially playing basketball at about age 12," she recalled. "My older brother started playing basketball at a club in Manchester [the Manchester Mystics], and when I realized they had a girls team, I decided to join."
For Harriet, the transition to basketball was somewhat easy as she was used to playing a sport with a round ball, but that sport was one where the ball is kicked with your feet rather than dribbled with your hands.
"Before basketball, I played football [soccer] for a local team," Harriet added.
As a 12-year-old, Harriet played basketball for the Mystics' Under 13 squad. Because she was new to the club and one of the younger players, she had to earn playing time by patiently waiting for her chance.
"She never gave up, carried on playing with [older brother] Joe at home, and worked hard in practice," her mother remembered.
When the opportunity to play an actual basketball game presented itself, she seized it with energy and passion.
"Her first big game was a quarterfinal when she was 12 years old," recalled Neil Swindells, Harriet's father. "The best guard on the team — Gina Brierley, who now plays for Sunshine State Conference rival St. Leo University — fouled out and the team was behind. The team brought Harriet on with five minutes to go as a last resort. At that time, it was not usual for girls to score a three-point shot. She had been on the floor for only seconds when she pulled up and shot a three-pointer. The gym was full, as it was the last game of the weekend, and, needless to say, when it went in, the crowd went crazy. We won the game, and she went to her first final four [of the league]. Her reputation as a shooter started from that day."
Unlike in the U.S., where lots of children play basketball at school, Harriet did not have that opportunity.
"Basketball isn't very well known in my hometown of Blackburn, so there were no school teams," Harriet said.
Harriet quickly grasped the game of basketball and realized there were opportunities for her to play college basketball in the U.S. It was just a matter of where in the U.S. and at what level.
"I realized that college basketball could be a possibility when I was about 14 or 15 years old," Harriet recalled.
REPRESENTING ENGLAND
It didn't take Harriet long to move up the playing pecking order of English basketball.
In Great Britain, the pathway to playing international basketball starts by playing for your region of the country.
Beginning as a teenager, Harriet played for the North West of England girls at every age group in the annual regional competitions, according to her parents. But what truly motivated her was watching her older brother, Joe, play for England at the Under 15 level in 2012. Harriet was just 13 at the time.
"We were walking out of the venue one day after a game and she said, 'I want to do that,' and that then became her goal," Stephanie Swindells said.
Harriet was chosen to represent England at the Under 15 level. She continued to be involved in the England squad, as she was selected for international tournaments and games. One of Harriet's most recent national appearances was playing for England in the Division B European Championships in the summer of 2016 in Bosnia. She was also selected to play in an Under 18 tournament in Bosnia in 2016.
At age 16, Harriet moved away to play high school basketball and continue her studies at Charnwood College in Loughborough, England.
Charnwood College was chosen to represent England in a 3-on-3 tournament in Estonia in June 2016. Harriet played on Charnwood's team.
FROM BLACKBURN TO BARRY
The decision to attend Barry University took time and research.
"In my first year at Charnwood College — the equivalent of a junior in high school — I started to e-mail coaches and assistant coaches from all over the U.S.," Harriet recalled. "I was sending them my highlight tape and a player profile stating my stats for that year, along with an explanation of the skillset I had. As I started to get e-mails back from teams that were interested, I started to narrow these down after communicating with the coaches and understanding who would be the best fit for me and what I wanted out of my college career. I kept in contact with Barry. In the end, it came down to Barry and another school, and after visiting Barry, it was clear that this was the best fit for me."
Stephanie Swindells agreed that the ultimate decision for Harriet to attend Barry University was not an easy one for her daughter, but it was clearly the right one to make.
"She had a few offers, including NCAA Division 1, but chose Barry above all of them, as she felt that was the best fit and she loved the team when she met everyone on her visit," her mother said. "We think that she made a good decision."
THE BARRY BUCCANEER BASKETBALL EXPERIENCE
Since arriving at Barry University in August 2017, Harriet, wearing #15, has steadily improved in all aspects of her game.
As a freshman in 2017-18, she played in all 30 games for Barry. She averaged 6.8 points a game and shot 32.5 percent from the three-point line. She scored in double figures in nine games and had a season-high of 21 points in a Sunshine State Conference game versus Lynn University. She also made a pair of buzzer-beater three-point shots to end a pair of games at home vs. Palm Beach Atlantic University which can be seen here: https://youtu.be/Rs1np2D-UBs.
As a sophomore in 2018-19, she played in 29 games. She started six of those games. She averaged 10 points a game while scoring a season-high of 19 during a Sunshine State Conference game versus Embry-Riddle Aeronautical University. She scored in double figures in 14 games. From the free-throw line, she shot 80.5 percent and had 25 steals plus 63 rebounds during the season.
As a junior in 2019-20, she played in 25 games and she started all 25 games. She was the team's leading scorer at 15.3 points per game and was Barry's top shooter from three-point range, as she made 71 three-pointers during the season. Her three-point shooting percentage was a respectable 31.8 percent. During the season, she had a career-high 29 points versus Findlay. From the free-throw line, she made 85.5 percent of her shots from the charity stripe. Her single-game high for rebounds was 10 and assists was seven.
This year was a bit of a juggling act for Harriet, who is used to playing as a shooting guard, but due to a season-ending injury to the team's top point guard, Nichel Tampa, in December 2019, Harriet had to assume the role of being a point guard, as well.
NOT ALONE AT BARRY
While Harriet is a few thousand miles away from the creature comforts of her Blackburn home, she is not the only player on Barry's women's basketball team who had to use a passport to arrive in Miami Shores. There is another English player on the squad. It's sophomore Ashleigh Pink from Sudbury. And there are teammates from Norway, Denmark, Sweden, Italy, Spain, New Zealand and Australia. There are also five girls on the team from various parts of the U.S.
Harriet and current Barry teammate Ashleigh Pink played together for England in 2016 at the Division B European championships. Harriet has also played against current Barry teammate Camilla Flefil, from Sweden.
"I played against Camilla in an Under 15 international tournament in Copenhagen, Denmark, as well as some practice games where Sweden came to England," Harriet said.
Naturally, there are pros and cons about attending college in another country.
"I enjoy the Miami weather!" Harriet said. "I enjoy my friends and teammates and just doing what I love to do every day and having the facilities to do so. I miss my family often when I'm in the United States. I miss my parents' food, the accents and humor that comes with my family. I miss those roast dinners on Sundays. That's my favorite meal. In general, I miss fruits and vegetables that can be hard to come by at school. And, of course, I miss biscuits — custard cremes, digestives and jammy dodgers."
THE COACHES' CORNER
Barry University head women's basketball coach Bill Sullivan, who recently announced his retirement from coaching, is delighted with the progress and effort of his young English recruit, who stands at 5-foot-6, but who has clearly played with the heart and drive of a giant.
"In my 44 years in basketball, Harriet is one of the best pure shooters — men or women — I have ever coached. When opponents are preparing their defensive game plan, I'm sure Harriet is one of the first players mentioned because she is such a scoring threat. She is usually guarded by the opponent's best defender, but her incredible range and quick release make defending her a difficult task," Sullivan said. "I love Harriet's passion for the game. She is a warrior — a tremendous competitor. Harriet is constantly in the gym working on her skills and despite several injuries this past year, she never wanted to miss a practice or a game."
Barry University assistant women's basketball coach Emily May — the players call her Coach Em — relishes Harriet's intensity during games and practice. May is a longtime Wellington resident who once played for the Wellington Wolves.
"Harriet brings an edge and a level of passion to the game which can really get the team going. She's a 'gym rat' whose dedication and work ethic has earned her respect on the court," said May, who has strong family and athletic connections to England as her paternal grandfather, Christopher May, was a standout club and county-level rugby player in England's county of Cornwall in the late 1940s and early 1950s.
PLAYER APPRECIATION
Harriet has words of praise and appreciation for her two coaches this past season and the role they have played in her development as a player.
"I am very thankful to have been coached by Coach Sullivan," Harriet said. "You will never find a coach who cares about the game and this team as he does. We developed great communicative relationship through the years which helped me on and off the court. I wish him all the best and a happy retirement."
"Anytime I wanted an extra workout, Coach Em would always make herself available and we would find a time to get in the gym," Harriet continued. "This impacted me, as it helped my confidence and skills to remain consistent through the season. This was one aspect I struggled with in previous years, however I showed improvement in my junior year."
In the upcoming 2020-21 season, Harriet will be looking to make history.
"Harriet is presently in second place on our All-Time Career 3-Pointers Made rankings," Sullivan noted. "During her senior year, I believe Harriet will become the leader in most 3-pointers made in the history of Barry University women's basketball."
PROUD PARENTS BACK HOME
Thanks to technology, the Swindells family, while living in England, is able watch Harriet's games on their computers.
"We have watched every game possible online whilst she has been at Barry, which has meant some very late nights sometimes with the time difference," Stephanie Swindells said. "A typical Wednesday night game starts at 5:30 p.m., which is 10:30 p.m. here on a school night. Her brothers watch her games, in their respective homes, when they can."
Win or lose, the Swindells family is proud of the competitive determination, work ethic and on-the-court leadership displayed by the 'baby' of their family.
"We are very proud of her both on and off the court," Neil Swindells said. "She wears her heart on her sleeve and is passionate, committed and has worked hard for what she has achieved."
Without a doubt, Harriet Swindells has matriculated into one of the better basketball-playing Buccaneers for Barry University and definitely one of Britain's (and Blackburn's) best in basketball, too. Thanks, in small part, to the role of a Wellington coach with English roots. The 2020-21 season awaits.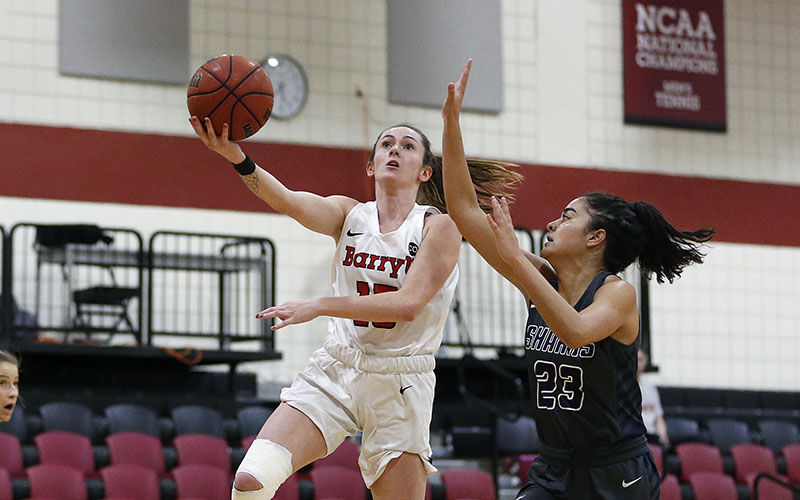 Mike May is a Wellington-based freelance sportswriter. He can be reached at mmaymarketing@gmail.com.