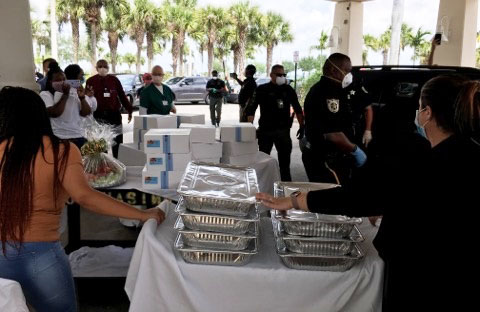 A caravan of Palm Beach County Sheriff's Office motor deputies and marked units made a special delivery to cheering employees Friday, April 24 at the Health Care District's rural, acute care teaching hospital in Belle Glade.
With lights flashing and sirens sounding, the PBSO vehicles pulled into the hospital entrance and Capt. Emory Payne announced, "On behalf of Sheriff Ric Bradshaw, we want to thank Lakeside Medical Center staff for all your hard work on being on the front lines."
The deputies then proceeded to deliver a catered lunch complete with trays of sandwiches, fruit salad, cakes and other items for 170 employees.
"We appreciate the generosity from the Palm Beach County Sheriff's Office at a time that is challenging for healthcare professionals and first responders alike," Lakeside Medical Center's Executive Director Janet D. Moreland said. "Our dedicated hospital staff are grateful to Sheriff Bradshaw and the deputies who keep our community safe."
The caravan was a welcome surprise to the Lakeside Medical Center, which has been putting in long hours and working additional 12-hour shifts to support patients' needs during the pandemic. The hospital serves as a vital component of Palm Beach County's healthcare safety net for the county's agricultural communities around Lake Okeechobee.
"It's gratifying to know that our community partners are thinking about the welfare of our hospital staff who provide safe, quality patient care," Health Care District CEO Darcy J. Davis said. "I thank Sheriff Bradshaw and his deputies for their thoughtfulness, as this delivery goes a long way to nourish our employees and lift their spirits."
To learn more about Lakeside Medical Center, visit www.lakesidemedical.org or call (561) 996-6571.