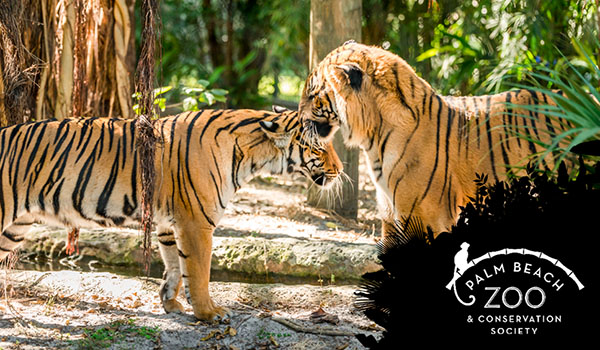 Palm Beach Zoo & Conservation Society President & CEO Margo McKnight announced this week that beloved Malayan tiger Api is expected to give birth in May. A bonded big cat pair, 10-year-old Api and her mate, 11-year-old Kadar, are part of the Association of Zoo and Aquarium's (AZA's) Malayan Tiger Species Survival Plan (SSP). The SSP is a cooperative reproduction program that serves as an important backup population for critically endangered Malayan tigers.
In January, Api and Kadar were displaying key signals, so the zoo's animal care team knew the window was open for mating. After successful introductions, the waiting began; it takes four to six weeks to confirm pregnancy. According to McKnight, "Api is now nine weeks pregnant. We are confirming how many cubs are present, and it looks like potentially two! Through incredible bonding and trust, our zoologist team taught Api to voluntarily lay still for a sonogram. We have some weeks to go and remain optimistic."
Scientists leading the charge on tracking and matching genetics for Malayan tigers in managed care have high hopes for Api and Kadar.
"With wild Malayan tigers possibly numbering 200 or fewer, and the SSP program only consisting of approximately 50 Malayan tigers, new cubs are incredibly important for sustaining this rare subspecies," Tiger SSP Coordinator Dr. Tara Harris said.
A "critically endangered" status means Malayan tigers will go extinct in the near future if illegal hunting and habitat destruction are not curtailed soon.
"It is a very precarious position to be in if you are a Malayan tiger in the wild," McKnight said. "AZA institutions are pulling out every stop to ensure this species doesn't 'wink-out' on our watch, which includes using tools like cryopreservation of sperm and eventually eggs and embryos. Imagining that someday we could augment the wild population with genetically robust animals seems to be far off, yet we have to be prepared."
Tiger field conservation work happens in Malaysia, where several AZA organizations support the hard work of Wildlife Conservation Society, whose field biologists work in-country helping to save the animals that are left. At home, the Malayan tigers at Palm Beach Zoo also have another important role to play. "They constantly remind our guests of the magnificence of wild nature and inspires them to act. Helping to save tigers in the wild can be as simple as paying attention to grocery store purchases, such as avoiding products with palm oil to supporting effort to stop illegal wildlife trade," McKnight said.
The keys to successful reproduction are many, and according to McKnight, they start with a trusting relationship with their zoologists. "We have one of the most advanced behavioral programs for tigers here, where preventive medical exams are comfortable and stimulating enrichment is part of the animals' daily lives. Our team loves these animals, and they are our family," McKnight said.
In the face of COVID-19, the zoo's progressive animal care and welfare program and the routine biosecurity protocols protect the animals and staff.
"The Malayan tigers have an experienced team who cares for them at Palm Beach Zoo," Director of Animal Health Dr. Kathleen Woodie said. "At the same time, I am conferring with veterinarians and professionals from accredited zoological institutions around the world to learn and share vital information about the progress of these cubs, monitor the health of Api and Kadar, and proactively address any related COVID-19 concerns."
McKnight believes this is an exciting time for the Palm Beach Zoo and its global community work to protect Malayan tigers. "While we have had to temporarily close the zoo the public, we are committed to sharing Api's progress with you via our Facebook and Instagram channels and regular communications from the zoo. We appreciate everyone's thoughts and support as we continue to provide uncompromised care for our family of animals," McKnight said.