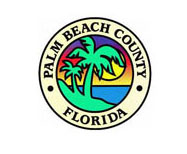 Palm Beach County will begin reopening pursuant to the State of Florida Executive Order 20-112 as amended by order 20-120, effective 12:01 a.m. on Monday, May 11. Residents may provide or obtain services at the following establishments authorized to proceed to Phase 1:
• Restaurants and food establishments licensed under Chapters 500 or 509 of Florida Statutes, may allow on-premises consumption of food and beverage, so long as they adopt appropriate social distancing measures and limit their indoor occupancy to no more than 25 percent of their building occupancy. In addition, outdoor seating is permissible with appropriate social distancing. Appropriate social distancing requires maintaining a minimum of 6 feet between parties, only seating parties of 10 or fewer people and keeping bar counters closed to seating.
• In-store retail sales establishments may open storefronts if they operate at no more than 25 percent of their building occupancy and abide by the safety guidelines issued by the CDC and OSHA.
• Barbershops, cosmetology salons and cosmetology specialty salons that adopt appropriate social distancing and precautionary measures as outlined by the Department of Business and Professional Regulation may re-open. For details, visit www.myfloridalicense.com/emergency.
• Museum and library facilities may open at no more than 25 percent of their building occupancy. However, at this time, Palm Beach County will not be opening these establishments, and county library services remain virtual.
• For up-to-date re-openings, visit www.pbcgov.com and click "Reopening Plans."
Effective Monday, May 11, all Palm Tran riders are required to wear facial coverings. Palm Tran continues to limit the number of passengers on board buses to ensure social distancing.
On the subject of beaches, County Administrator Verdenia Baker briefed the Board of County Commissioners Friday, May 8 on the plan to open beaches. The plan includes the recommendations of a working group, input from cities, input from the Palm Beach County Sheriff's Office and from the Palm Beach County Parks & Recreation Department.
The details of the beaches' opening will be finalized at a special meeting to be held on Friday, May 15. The board voted to open all private and public beaches effective no later than May 18, by way of County Order 2020-006. Social distancing procedures would remain in effect.
Commissioners unanimously approved a draft list of expenditures related to a $250 million grant from the federal Cares Act. The funds must be used by Dec. 31 for COVID-19 related costs that were not already in the county budget. The programs funded include Emergency Food Distribution, Individual & Family Housing Assistance, Human Services Assistance, Restart Small Business Grant, Business Grants, Countywide Testing, Non-Congregate Sheltering, Re-employment Training and Broadband Enhancements.