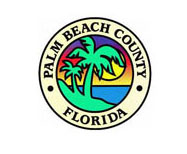 With the 2020 hurricane season just days away, the Palm Beach County Commission held an extended workshop discussion Tuesday, May 19 on how to deal with the COVID-19 crisis should it be simultaneously coupled with a hurricane.
County staff gave a presentation on hurricane preparedness prior to hurricane season beginning June 1. The storm season got off to an early start with Tropical Storm Arthur, which began its development near South Florida weeks ahead of the official season. Luckily, that storm stayed well off the Florida coast.
Deputy County Administrator Jon Van Arnam said the presentation was to show what the county has done to improve preparation following the 185-mph Hurricane Dorian, which caused devastation in The Bahamas and brushed past Palm Beach County in September 2019 before turning north, sparing this area a major disaster.
"Additionally, we will provide an overview of the preparedness strategies during this pandemic for the 2020 hurricane season," Van Arnam said.
Director of Public Safety Stephanie Sejnoha said her department has focused recently on addressing coronavirus issues, although its responsibility addresses all disasters.
"This year, our efforts are focused on COVID-19, but we are working with our state partners to develop a plan to address a hurricane during this pandemic," Sejnoha said. "Due to very warm temperatures in the tropics, the 2020 Atlantic hurricane season forecast is likely to be very active and slightly above average."
She said improved staffing is among changes her department has made considering the pandemic, as well as issues that arose during Hurricane Dorian, which threatened Palm Beach County during the week of Labor Day, when many staff members were on leave.
Director of Emergency Management Bill Johnson said COVID-19 has already put an unprecedented strain on disaster management, health workers, first responders and other systems.
"A hurricane will exacerbate that strain," Johnson said. "The Florida Division of Emergency Management has spearheaded a statewide effort to address COVID-19 shelter planning, and Palm Beach County has been an active member of that statewide shelter coordination team."
Strategies to address COVID-19 issues during a hurricane include an evaluation of the statewide evacuation process.
"We may have to balance evacuation risk against the risk of increasing transmission," Johnson said. "We are also developing a hurricane shelter contingency plan that will include non-congregate and congregate sheltering options for general populations, special needs and pet-friendly shelters. We are looking at creative ways of insuring physical distancing while not dramatically reducing our overall capacity."
Emergency management is working to provide shelters with screening, masks, hand sanitizer and cleaning equipment, and to develop new procedures and training for staff to employ during a possible COVID-19/hurricane crisis.
"We will continue to evaluate our plan to ensure the safety and well-being of our residents and our employees of Palm Beach County," Johnson said.
Commissioner Hal Valeche asked if volunteers could be employed to assist in some shelter operations, and County Administrator Verdenia Baker said volunteers do work in the shelters, but when an actual major storm rolled in, many volunteers did not come.
"We also had issues with contracts, such as contract nurses, where we thought these nurses were going to show up, but they did not show up," Baker said.
Commissioner Greg Weiss asked what the recovery period would look like during a simultaneous COVID-19/hurricane situation, and Van Arnam said it would be a long process that could take months, although the county's recovery process has improved greatly over the years, and the system is modeled to address a variety of disasters.
"We adapt those strategies to fit the particular situation," Van Arnam said. "One thing I can tell you, we are incredibly more prepared than we were five years ago, 10 years ago and 20 years ago when I started this. Our emergency management structure is great, and we have a lot of state support."
To get tips on planning for hurricane season, visit www.pbcgov.com/hurricane.