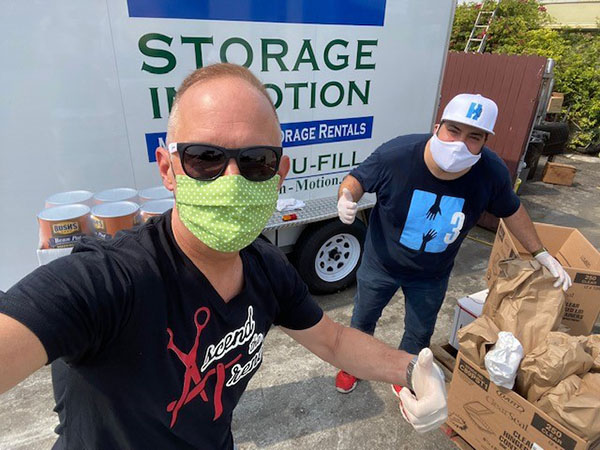 Nonprofits First is responding to meet the needs of local nonprofit organizations by providing resources and tools to empower nonprofits as they weather the COVID-19 storm. Demand for nonprofit governance and management resources has increased significantly and Nonprofits First has supported more than 240 nonprofits in Palm Beach County since March 18.
Organizations served by Nonprofits First are located throughout Palm Beach, Broward and Martin counties and hundreds are continuing to provide services to the community during the pandemic. For example, the Alliance for Eating Disorders Awareness continues to provide support groups and lifesaving care to affected families; the Compass LGBTQ Community Center provides safe space for clients via Facebook Live; and the Alpert Jewish Family Services is providing four different virtual support groups for anyone coping with stress during the pandemic, victims of domestic violence, family survivors of suicide and addiction support.
Food relief groups such as the Palm Beach County Food Bank, Hospitality Helping Hands and Feeding South Florida report demand is at an all-time high and continue to reach people in need with the help of volunteers like Dr. Peter Cruise, a member of the Nonprofits First board of directors. A complete list of member and accredited agencies is available on www.nonprofitsfirst.org.
Nonprofits First was one of the first local organizations to respond to the COVID-19 pandemic by sharing resources with constituents and nonprofit needs with generous donors, and CEO Jessica Cecere serves on the City of West Palm Beach COVID-19 Response Unit.
Training on governing through crisis, business contingency planning, financial management, and nonprofit resource guides on the CARES Act and PPP are just some of the ways Nonprofits First stepped up right away.
Anyone can access a free recorded webinar and FAQ document outlining legal considerations and best practices for conducting virtual board meetings on the Nonprofits First web site or by contacting info@nonprofitsfirst.org. Philip DiComo, an attorney with Haile, Shaw & Pfaffenberger, P.A. and a member of Nonprofits First board of directors; Jeff Fromknecht, an attorney and founder of Side Project Inc.; and Mike Gavaghen, an IT expert from IT Solutions, joined Adriene Tynes, director of accreditation for Nonprofits First. in the highly informative discussion.
Topics covered in the webinar and FAQ include: making videoconference meetings as secure as possible; file sharing platform recommendations, quorum requirements, voting and recording considerations; and accommodations for board members with vision impairment or low vision and board members who are deaf or hard of hearing.
"Now is a critical time to not only give to nonprofits but to open our hearts to our neighbors. We are in this together, and I hope you will join me in supporting our vibrant nonprofit network and community members," Cecere said.
#GivingTuesdayNow is a global day of giving and unity taking place on May 5 as an emergency response to the unprecedented need caused by COVID-19. The day is designed to drive an influx of generosity, citizen engagement, business and philanthropy activation, and support for communities and nonprofits around the world. Those interested in joining Nonprofits First's #GivingTuesdayNow efforts can visit www.nonprofitsfirst.org/donate.