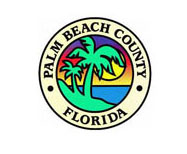 Palm Beach County officials released a recap of the county's COVID-19 testing program on Friday, May 1.
Palm Beach County opened its first COVID-19 drive-through testing center for residents of Palm Beach County to be tested for the virus on March 31. A central Palm Beach County location was identified, and along with community partners the Healthcare District of Palm Beach County, the Florida National Guard and the Florida Division of Emergency Management, the testing center was established at the Fitteam Ballpark of the Palm Beaches, located in the City of West Palm Beach, at 5444 Haverhill Road. Since opening day, the Ballpark of the Palm Beaches site has tested 12,923 residents. There have been a total of 2,440 no shows at this site since March 31. Some of these no shows could have been late cancellations, and it is important to note that testing kits set aside for those appointments are put back into inventory to allow for more testing.
Testing for south county residents began April 7 at the South County Civic Center in western Delray Beach. This site was the second drive-through testing center opened with a partnership between Palm Beach County, Cleveland Clinic Florida, the Florida National Guard and the Florida Division of Emergency Management. To date, this site has performed more than 3,546 COVID-19 tests with a total of 3,836 appointments.
On March 16, the Healthcare District of Palm Beach County opened up walk-up sites in West Palm Beach, Belle Glade and Lantana. All sites are convenient for public transportation and did not require any type of appointment. The 45th Street location for COVID-19 testing transitioned once the Ballpark location was established. On April 22, a drive-through lane was added to the Belle Glade site at the Lakeside Medical Center. This site continues to offer both walk-up and drive-through testing to the residents of the Glades, and to date has tested 1,018 residents.
In an effort to increase walk-up testing, the Healthcare District was requested by the county to reopen the clinic in West Palm Beach on 45th Street and open one in Jupiter on Indiantown Road. These clinics opened up on April 29 and April 30, respectively. They have already tested more than 100 residents.
Beginning May 4, another walk-up site will be available in Delray Beach in partnership with Healthcare District. The walk-up site at 225 S. Congress Avenue has begun scheduling appointments. Testing at this site is available by appointment Mondays through Fridays from 8 a.m. to noon. All the walk-up sites are accessible by public transportation, which is free to these sites.
In addition to the many commercial, government and nonprofit sites across the county, Palm Beach County Fire-Rescue began setting up appointments and testing home-bound residents this week. The first phase of the plan involves testing those residents who are on the county's Special Needs Registry. PBCFR teams will test approximately 135 residents by the end of this week. This is an ongoing process that is expected to take several days. Palm Beach County Fire-Rescue has been training municipal fire-rescue crews to assist in the home-bound testing.
Testing for the government sites would not have been possible without the cooperation of the Florida Division of Emergency Management and its assistance in getting testing kits to keep the sites running at full capacity throughout the month of April and into May.
Below is a table of government-sponsored testing sites in Palm Beach County