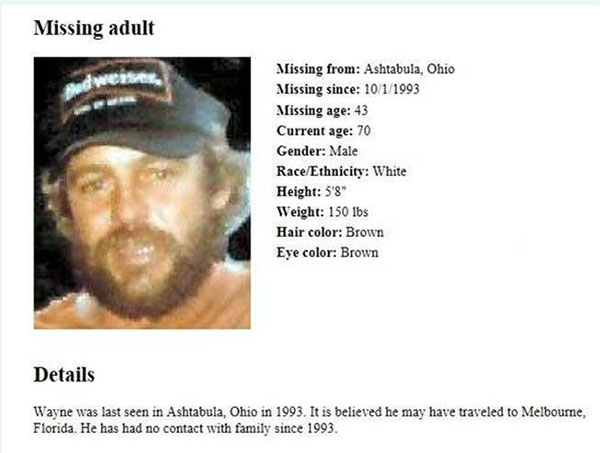 Palm Beach County Sheriff's Office cold case detectives are investigating the homicide death of Wayne Calvin Griffith, whose body was discovered in the western communities more than 25 years ago.
On Oct. 25, 1993, survey workers discovered skeletal remains in the area of Southern Blvd. and State Road 7. The unidentified skeletal remains were taken to the Palm Beach County Medical Examiner's Office and determined to be human and the manner of death to be homicide.
On May 11, 2020, PBSO cold case detectives were notified by the University of North Texas Center for Human Identification that the remains belonged to Wayne Calvin Griffith, based upon a DNA match between the unidentified DNA sample and family members' reference samples in the Combined DNA Index System (CODIS).
Detectives learned that Griffith was reported missing by his family in Ashtabula, Ohio, on Oct. 1, 1993.
Anyone who may have known Wayne Calvin Griffith, or has any information on his homicide, is urged to contact Crime Stoppers at (800) 458-TIPS.