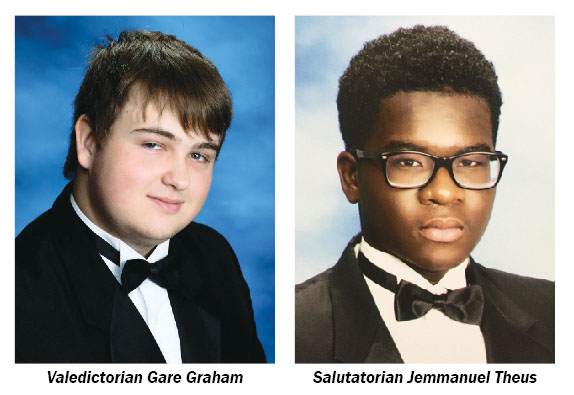 A virtual graduation ceremony will be held online on Friday, May 29 at 6:30 p.m. to celebrate the 564 members of Royal Palm Beach High School's Class of 2020.
The ceremony will be streaming online and televised on the school district's various channels. Learn more at www.palmbeachschools.org/graduation2020.
The virtual event will follow the format of traditional graduation ceremonies. Student names will be called and those watching will see the student because pictures will be displayed. The ceremony will feature speakers, including addresses from valedictorian Gare Graham and salutatorian Jemmanuel Theus.
"We are very proud of the entire class, including both of these young men, who have obviously worked hard for their accomplishments," said Principal Jesus Armas, explaining how the academic honors are determined using the honors point average, which takes into account extra classes and college courses. "Gare Graham has the highest HPA of any valedictorian in the school's history."
Theus, who finished with a 3.77 grade point average and 5.1 honors point average, lives with his parents, his 11-year-old brother and two sisters, ages 15 and 8.
During this unique time of online learning, Theus maintains his attendance and classwork but is challenged by finding things to do. "It gets boring really quick," said Theus, who will be going to the University of Florida to study mechanical engineering.
Theus offers advice to his fellow graduates. "Never let someone tell you that you can't. Strive toward your goals," he said. "We are almost there. You have put in all the work; don't let up now."
He sees much brighter times ahead.
"After this passes, I feel like we will continue our normal lives," Theus explained.
Graham, who has a grown half-brother and half-sister, said that he had always tried his best but made no special effort in class strategy or tactics.
"The principal got my attention when he told me that I was number one," Graham recalled. "I was doing the best that I could, but there were classes I could take. My grade point average is 3.96, and my honors point average is 5.36."
Before the virus changed the school year, Graham was active in the Pop Culture Association and was particularly interested in the areas involving Japanese culture. He was involved in the Math Academic Games in his sophomore and junior years and came in the top 15 in the district.
For Graham, switching to online education only wasn't as much of a stretch as it was for others.
"To be honest, it wasn't that much of a change for me. I am in the International Baccalaureate (IB) program, and I had gotten used to having online classes," he said.
A few of his teachers required online attendance. They would post assignments and be available to talk to students.
Graham will be attending the University of Central Florida where he will major in psychology. He is optimistic about the future, rating his feelings at a 6 or 7 on a 10-point scale.
"I rate it there because I worry that things are opening up too soon and the people are fickle in their observance of recommendations," he said. "One slip can make everything much worse."
Graham offers the advice of not letting events like the pandemic get you down. Get through the tough times so you know when you can have good times, he said.
"Don't slack off because you are not seeing a teacher face to face," Graham said. "You could screw up all the work you have done."