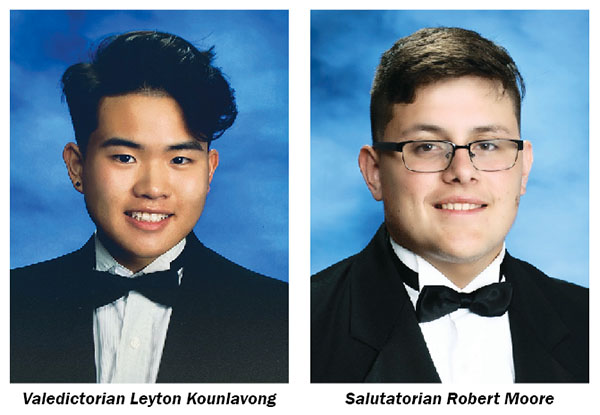 Seminole Ridge High School made it through the unprecedented challenges of the 2020 school year, and 536 students will be graduating Tuesday, June 2 at 5 p.m. with Leyton Kounlavong leading the class as valedictorian and Robert Moore as salutatorian.
The June 2 ceremony will be held virtually, streaming online and televised on the school district's various channels. Learn more at www.palmbeachschools.org/graduation2020.
In addition to the virtual ceremony, SRHS Project Graduation and the Indian Trail Improvement District will host a 2020 Senior Parade through The Acreage on Saturday, May 30, starting at 9 a.m. The route starts at Citrus Grove Park and goes down 140th Avenue North to end at Acreage Community Park.
"Seminole Ridge is extremely proud of all the graduates of the Class of 2020, including our valedictorian Leyton Kounlavong and salutatorian Robert Moore," Principal Dr. James Campbell said. "Both Leyton and Robert are prime examples that hard work pays off. They were driven to succeed throughout their high school years and earned the honor of being recognized as valedictorian and salutatorian, respectively."
Both students are slated to become Florida Gators. "We know that motivation will serve them well as they both further their education at the University of Florida," Campbell said.
When Moore was a sophomore, a teacher told him that he was, at the time, at the top of his class. That is when he decided he might try for one of the graduation honors.
A member of the National Honor Society and the National Science Honor Society, Moore also played baseball his freshman and sophomore years before an injury sidelined him his junior year. Of course, he missed this year because the spring sports season was canceled.
Moore lives with his parents and his two brothers, ages 19 and 13, and his sister, who is 11. He holds a grade point average of 4.0 with his weighted honors point average at 5.19.
He will be studying biology at UF. "My goal is to study to be a doctor," Moore said.
One of the reasons Moore chose the Gainesville campus is because he plans to work with the football team as a video assistant, doing camera work for different drills in practice.
Moore said that his advice for fellow graduating seniors is, "Don't let not having a prom or graduation diminish what you have accomplished."
While what lies ahead for the next school year remains unknown at this time, he advised next year's seniors to enjoy every opportunity they are given. "Don't take anything for granted and enjoy every moment of your senior year," he said.
Currently completing the four classes he takes through Google Meet, Moore said his current schedule is unusually light. "Pretty chilled, a lot like summer," he said. "I watch a lot of Netflix."
Despite the challenges of this school year, Moore remains upbeat. "I am very, optimistic about having a bright future," he said. "I am pretty driven about college and graduate school."
Friends who have known each other for a while, Kounlavong and Moore jostled back and forth as numbers one and two in the class, taking honors classes and extra college courses.
When he was a sophomore, Kounlavong, who lives with his parents and has an older brother and sister, found out he was number two and strived to end as the valedictorian. "At the end of my junior year, I was number one," he recalled.
A typical current school day begins at 8 a.m. with online classes that go until about noon. "From 3 until 8 p.m., I do homework. We finished the curriculum early in the year," said Kounlavong, who will be going to the University of Florida to study mechanical engineering.
Kounlavong's advice to fellow graduates is to, "Hit the ground running. Let emotions of losing what we lost this year be what fuels you to improve. We have something to bond over."
For students who will be seniors next year, Kounlavong wishes them a better springtime.
"Enjoy every moment while it lasts. We lost prom, grad bash and graduation… It makes me appreciate the things I did before the virus," he said. "Work will be there, make memories with your friends at school events, balance it. Be ready when the world opens back up."
Despite the current troubles, he sees bright times ahead.
"I am optimistic about the future," Kounlavong said. "However upsetting it may be now, there is nothing I can do, I can't fight a pandemic.
Campbell is proud of how the Class of 2020 has dealt with unprecedented challenges. "We wish all our graduates the best in their future endeavors," he said.