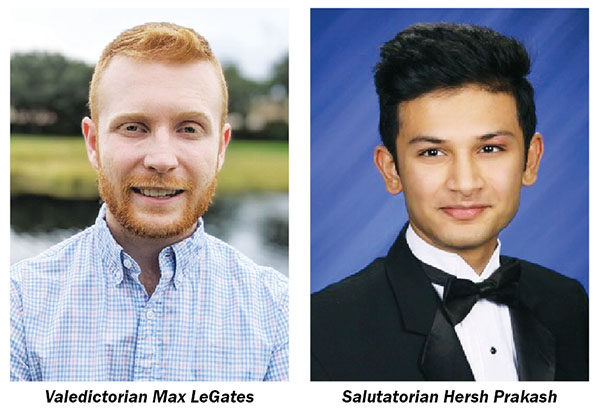 Wellington High School Principal Cara Hayden said that the entire school is incredibly proud of the 635 members of the Class of 2020, who will graduate during a virtual ceremony set for Monday, June 1 at 6:30 p.m.
The ceremony will be streamed online and televised on the school district's various channels. Learn more at www.palmbeachschools.org/graduation2020.
Leading the way will be valedictorian Max LeGates and salutatorian Hersh Prakash.
"Max and Hersh are wonderful representatives of the grace and maturity demonstrated by our senior class," Hayden said. "Our seniors were instrumental in our transition to remote learning. Their focus and maturity helped our teachers maintain continuity in the classroom."
She added that the Class of 2020 will be celebrated for "their pivotal role in building our virtual campus. They responded to the loss of several senior traditions with maturity and kindness — and promoted the most innovative ideas."
Prakash has a 3.93 grade point average (GPA) and a 5.55 honors point average (HPA), which takes into account advanced classes and college-level coursework. He lives with his parents and his sister, who is two years older.
Prakash recalled that it was while attending his sister's graduation when he was a sophomore that he decided to try for valedictorian or salutatorian.
"I was sitting in the auditorium with maybe 4,000 people, and 600 kids who had all worked extremely hard to get through school and graduate," Prakash remembered. "Only two students were getting that extra recognition. I saw the salutatorian give a speech and I got chills. I knew I would be salutatorian or valedictorian because I wanted to leave my mark at Wellington High School."
Last year, Prakash played soccer. He is a member of the National Honor Society and a math tutor. He also works part time as a loan processor and will soon have his real estate license.
With school shifted by the pandemic, a typical day for him now begins at 8 a.m. "School is still happening, so I join the Google meets for my classes," he said. "In the afternoon, I go for a run and study for the real estate exam. I go to sleep around 11 p.m."
Prakash will be attending the University of Florida, where he will major in business and real estate.
"I am extremely optimistic about the future because the country is never going to stop," Prakash said. "Kids, such as myself, want to see the world be a better place. I recommend trying to have a positive mindset as a whole; that way current events won't affect us so much."
Prakash is also excited to be voting for the first time this year. "I am extremely excited to have a voice and experience being in a voting booth," he said. "It is one vote, but one vote matters."
LeGates lives with his parents and has two older brothers. The oldest one graduated from Roanoke College two years ago, and the middle brother just graduated from Franklin & Marshall College. LeGates starts in the fall at the University of Florida, studying environmental science.
He decided to strive for valedictorian when he saw that he was ranked first after his freshman year, LeGates said.
"I wanted to keep up my hard work and keep that position," he said. "There were no defining moments because I never knew if I would stay valedictorian, but I worked harder and harder every year to keep my position."
LeGates graduates with a GPA of 4.0 and an HPA of 5.40.
In the time before the virus hit, LeGates ran varsity cross country since his sophomore year and participated in the Leadership Grow program. "I was also junior and senior class treasurer and involved heavily in student government," he added.
LeGates found virtual school to be challenging. "Transitioning to online learning was quite difficult for me," he said. "I'm not used to learning online. The hardest thing for me was trying to stay awake for first period while still laying in my bed!"
Nevertheless, he made sure to keep his focus. "A typical day is very much like real school, except lonely and more boring," LeGates said. "But I got used to it and still tried to succeed."
He's optimistic about the future. "I know the world is going through a tough time right now, but we are all working together, and we will come out stronger. I'm excited to start my four years at UF," he said. "One piece of advice I have for fellow graduates is to never stop chasing after your dreams. If you work hard and keep your eyes on the prize, you can accomplish anything."
As for those who are coming up behind him, LeGates said, "My advice for future seniors is to focus on school but to also ensure that you have a good time as well. Don't get caught up in being the best or else you'll lose yourself in the process."
Hayden had only positive things to say about the entire Class of 2020.
"I will always be grateful to our seniors for handling an impossible situation with patience, kindness and teamwork," she said. "I believe that through our constant open communication, we were truly #InThisTogether. These students are the best of our #WHSLegacy."