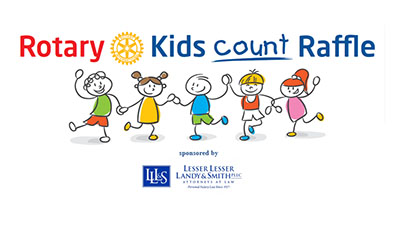 The Wellington Rotary Club chose the winner of its Rotary Kids Count Raffle on Thursday, April 30. The raffle raised $30,000 for programs aimed at children.
A total of 250 tickets were sold at $100 each to raise $25,000 for local children. The $5,000 prize was sponsored by the law firm of Lesser, Lesser, Landy & Smith to make sure that all the money from ticket sales went directly to help children.
Wellington Mayor Anne Gerwig spoke to the club at its April 30 virtual meeting via Zoom and drew the winning ticket. June R. Smith, mother of Rotarian Mickey Smith, purchased the winning ticket. Unfortunately, she passed away a few weeks before the raffle drawing. Mickey Smith, along with his brother Paul Smith and sister Sally Perkins, agreed that their mother would have wanted the money donated back to the club to further help fund projects for kids. Accordingly, the raffle raised a total of $30,000 for children: $25,000 from ticket sales and $5,000 from the donated prize.
"I thank the Smith family for their outstanding generosity, which will go a long way toward helping local children in need," Wellington Rotary President Don Gross said. "I also wish them condolences from our entire club at the recent loss of their family matriarch."
Over the past year, the Wellington Rotary has provided scholarships to deserving high school seniors, supported anti-bullying efforts, gave hundreds of dictionaries to third graders in the community, supported high school Interact service clubs, provided holiday gifts to kids who otherwise might not have received any and paid for basic clothing for children in need.
For more info., visit www.wellingtonrotary.org.