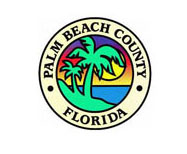 The COVID-19 virus is here to stay for at least a year, and the population will have to wait until there is sufficient immunity before it can relax, Palm Beach County Health Department Director Dr. Alina Alonso told the Palm Beach County Commission on Tuesday, June 16.
Until then, social distancing and mask wearing should be the way people learn to live and work, Alonso said, noting that the rate of infection had jumped in Palm Beach County since some restrictions had been lifted, particularly among younger adults.
Her conclusion was poorly received by some commissioners, who wanted a more rapid restoration of the economy.
Commissioner Gregg Weiss, whose east-central District 2 showed the highest jump in new cases, said he wanted to make mask wearing mandatory and made a motion to do so, but Commissioner Robert Weinroth disagreed. "We need to let people make their own decisions," said Weinroth, who represents south-coastal District 4.
Palm Beach Mayor Dave Kerner said he would like to see a report from the Palm Beach County Sheriff's Office on how such a mandate would be enforced, stating that some bar owners might ignore a $250 fine because they "could make that in 10 minutes."
After more discussion, commissioners decided to wait until they hear from the PBSO before considering such a mandate.
Alonso told commissioners at the meeting that Florida has experienced a sharp increase in the number of COVID-19 cases, with a total of 80,109 positives out of 1,460,309 tested, and 2,993 deaths.
"We need to remain cautious because of the time lag between new cases and deaths," she said. "In Palm Beach [County], we now have 9,000 cases with 429 deaths. What I find important to talk about is this new curve… between the ages of 15 to 24 and the ages 25 to 34 that they have increased."
The number of cases in children is comparatively small, but there have been hospitalizations, she said.
"The ages of 25 to 34 have increased significantly with 1,493 cases," Alonso said. "Those individuals have been in the ICU and there have been deaths, so it's very important that we keep that in mind."
For the state, the mean average prior to re-opening was 68 cases per day.
"In May, the average went up 60 percent to 102 cases per day, and the mean in June is now 202 cases, or a 100 percent increase," she said. "This is rapidly increasing, and we're going to have to keep a very close eye on that and be cautious before we go forward."
She noted that an increase in cases was expected with the opening of some facilities.
"More people are out, there are less people wearing masks, we're not paying attention to social distancing, so, therefore, the virus has taken on more fuel," Alonso said. "The fuel for the virus is the people. The idea of closing down businesses was to starve the virus."
She said that masks and social distancing are a primitive means of controlling the spread of the virus, but they are the only remedy until the development of a vaccine.
"We need to enforce a strong social distancing strategy," Alonso said. "That's the only weapon we have against this virus."