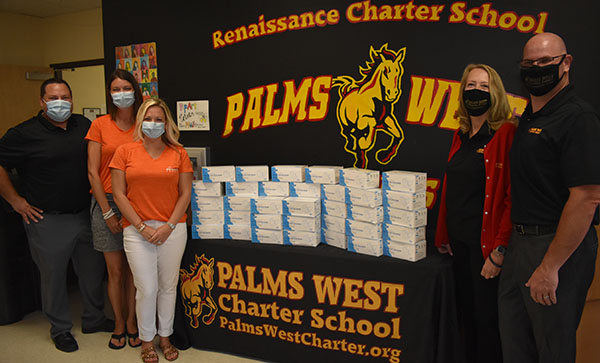 Eleven30apparel will donate as many as 20,000 three-ply masks to Palms West Charter School and several of its Renaissance Charter sister schools in Florida. The donation is a collaborative effort among eleven30apparel, Pyra Promotions and Tags4Teachers, eleven30apparel's nonprofit organization.
The masks were delivered to Palms West Charter School at 12031 Southern Blvd. in Royal Palm Beach on Wednesday, July 15.
"We are a company that cares about and takes action for both communities and people," said Jenell Harris, co-owner at eleven30apparel. "We are enormously thankful that we and our network of suppliers can be of help to our local schools throughout Florida in the COVID-19 pandemic."
As schools prepare for an uncertain fall, donations such as this are greatly appreciated by school administrators.
"Charter Schools USA is working with our schools to provide safety and PPE for our students and staff, but the reality is that none of us know how great the demand will be," said Steve Epstein, principal of Palms West Charter School. "This donation will be a tremendous help, and we are grateful to eleven30apparel and its partners for stepping in to help make our re-opening process go smoothly. This donation will help our students and staff here at Palms West, as well as at our sister schools in Palm Beach County or any CSUSA schools where there is a need."
As the Centers for Disease Control (CDC) continues to update its guidelines for schools re-opening in the fall, masks are recommended when feasible for students and staff when physical distancing is difficult. Specific requirements are still under consideration and will be determined closer to the beginning of school.
"The COVID-19 pandemic has put an enormous strain on our society, especially our students and teachers," Jenell said. "We are honored to be among the many companies and people who are providing support and resources to help in the outbreak of the virus."
Eleven30apparel will also donate 5,000 masks to Joe DiMaggio Children's Hospital to be distributed to its partner schools in Broward County in the near future.
For more information about eleven30apparel, Pyra Promotions and Tags4Teachers, visit www.eleven30apparel.com.