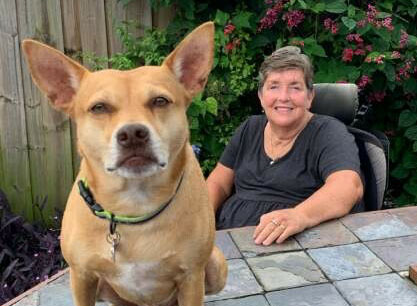 Cheering up a child in need of a laugh was the spark that helped create greeting cards purported to come from Mary Cay Martin's celebrated dog, Buddy.
Distributed by mail monthly detailing the adventures of Buddy in hand-made cards with pictures of the photogenic pooch, Buddy Love cards are brightening the day of children and adults across the nation.
The first cards were invented by 30-year Royal Palm Beach resident Martin to send to a young relative. "My grandniece, Olivia, had heart surgery in 2019, and you can't send a regular get well or sympathy card to a child," remembered Martin, who said that the little girl enjoyed hearing stories about Buddy. "He is a total nut."
So, she thought a card from Buddy would be something Olivia would like, and boy did she.
A retired teacher who worked with the deaf, Martin started making the cards recounting the adventures of Buddy. Soon she had volunteers to help with the hand-made cards.
"They never see a computer or a printer, except the wallet-sized photographs that are attached," Martin explained.
Each card is cut out, decorated and lettered by hand, and is a unique work of art in itself.
Other children in the hospital wanted to see the cards, and then Martin realized that seniors loved receiving the humorous messages as well.
"It really clicked. So many people enjoyed receiving something simple that provides a little silliness in their day," Martin said.
This month, the sixth issue, some 300 cards went out, and the next installment will be nearly double that.
"Locally, they go to Palms West Hospital, Ronald McDonald House, the Quantum House, assisted living facilities and nursing homes, as well as individual children getting well at their own homes," said Martin, who explained that children are encouraged to write back to Buddy and his fan club. "Children send in pictures of their own pets to the Friends of Buddy. Based on them, we have a fish story and a cat story coming soon."
The letters the children send helps them with their writing skills, noted the retired teacher.
"Buddy is the narrator of the stories," Martin said. "He is a rescued Chihuahua mix who is about six years old, and he is the fattest Chihuahua you have ever seen, so he is kind of odd looking. He is crazy about kids and is a true troublemaker. He has so much personality."
High school students help out with the handiwork, as well as young children who enjoy the crafts. "I also want to recognize the Greater West Palm Beach Women's Club," Martin said. "They have provided names of recipients in half a dozen other cities who will also get the Buddy Love cards."
Part of the General Federation of Women's Clubs, the world's largest and oldest women's international volunteer organization, the West Palm Beach club has worked on a wide variety of projects, such as the Well Baby Clinic, benefits for the Palm Beach Zoo, the Blue Dot Project, road rallies, golf tournaments and more.
Founded in 1927, the Greater West Palm Beach Women's Club has a long history of supporting worthy projects in the area. Its members include many people from Wellington and Royal Palm Beach.
"We find a need and then find a solution to meet it," said Wellington resident Phyllis Gauger, a past president and a department head in the organization. "We provide volunteers, as well as in-kind donations to Mary Cay Martin. She would welcome suggestions for additional organizations where there is a need. She operates this project on a shoestring budget, along with the generosity of friends and student volunteers. Donations and more volunteers are always welcomed."
Martin's efforts are all grassroots. "I'm not a nonprofit organization, I am just me working with volunteers on my back patio," she said. "I don't accept any money, but donations are greatly appreciated. Anything that would help make a handmade card, like glue sticks, stamps and paper stock."
The COVID-19 pandemic has made this light-hearted project all the more necessary for those in hospitals and convalescent homes. "I think this is really important, especially with the situation as it is now," Martin said. "People can get so lonely."
Contact Mary Cay Martin and the Buddy Love project through the Greater West Palm Beach Women's Club web site at www.gfwc-wpbwomensclub.org.
Below: The front and inside of some of the cards from Buddy, a rescued Chihuahua mix who narrates the story. Also shown is P.J. Delhomme, one of the volunteers who helps decorate the Buddy Love cards.