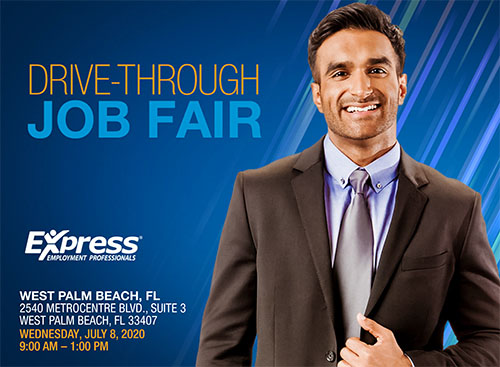 The West Palm Beach Office of Express Employment Professionals will host its second "touchless" hiring event, called a "Drive-Thru Job Fair," on National Interview Day. The event will be held on Thursday, Aug. 6 from 9 a.m. to 2 p.m. at the West Pam Beach Express Office, located at 2540 Metrocentre Blvd.
Applicants will drive their cars into the Express parking lot, where they will be directed to the appropriate area for their interview. Express team members will interview each candidate alongside their vehicles, remaining six feet apart and wearing masks/gloves. Attendees can have multiple job applicants in one vehicle.
All attendees are asked to bring a device that will access the internet (phone, tablet, laptop) so that they can use it to connect to the internet and complete the application process if needed. Resumes will not be accepted. Applicants may also be asked to complete an I-9, in which case identification documents would be required.
Express Employment Professionals finds jobs each year for more than a half a million people through nearly 800 offices, including 33 offices in Florida. Express offers a full range of employment solutions, including evaluation hire, temporary staffing, professional search and human resources. Express focuses on a wide range of positions, including accounting, call center, human resources/recruiting, IT, accounting/finance, warehouse, HVAC, CDL drivers, administrative and legal. For more information about Express, visit www.expresspros.com/wpalmbeachfl.
The West Palm Beach Office of Express Employment Professionals had a 95 percent customer satisfaction rate during 2019. Owners Lee and Barb Fossett just celebrated 26 years in leading workforce solutions in the West Palm Beach area.