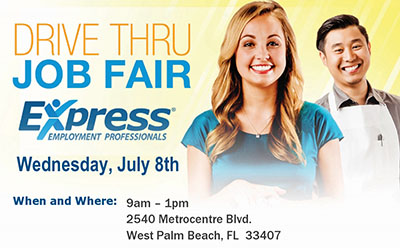 The West Palm Beach Office of Express Employment Professionals will host a "touchless" hiring event called a Drive Thru Job Fair on Wednesday, July 8 from 9 a.m. to 1 p.m. at the West Pam Beach Express Office (2540 Metrocentre Blvd., Suite 3).
Applicants will drive their cars into the Express parking lot, where they will be greeted by a member of the Express Team. Candidates will be asked to park their cars in the shaded parking lot where the Express Team will conduct a "touchless" screening interview.
In order to complete the job application, candidates are asked to bring their phone, or another device that they can use to connect to the internet. Applicants may also be asked to complete an I-9, in which case identification documents would be required. Some acceptable items include, but are not limited to, driver's license, Social Security card, passport, etc.
Express Employment Professionals helps nearly 510,000 people find jobs each year with nearly 800 offices in three countries. Express offers a full range of employment solutions, including evaluation hire, temporary staffing, professional search and human resources. Express focuses on a wide range of positions, including professional, commercial and administrative. For more information about Express, visit www.expresspros.com.
The West Palm Beach Office of Express Employment Professionals boasts a 95 percent customer satisfaction rate during 2019. Owners Lee and Barb Fossett just celebrated 26 years in leading workforce solutions in the West Palm Beach area.