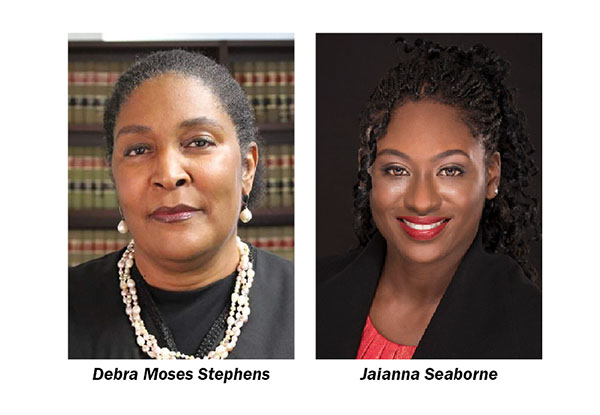 Longtime Palm Beach County Court Judge Debra Moses Stephens is being challenged in her bid for re-election to the Group 12 seat by attorney Jaianna Seaborne. The race will be decided in the primary election Tuesday, Aug. 18 with mail-in voting already underway and early voting opening Monday, Aug. 3.
Incumbent Debra Moses Stephens — Stephens received her bachelor's degree from Duke University and her law degree from Howard University. She was admitted to the Florida Bar in 1987 and the District of Columbia Bar in 1990.
"I have been a Palm Beach County judge for 20 years," Stephens said. "I started my legal career in the public defender's office and spent 13 years trying cases in the misdemeanor, felony and juvenile divisions."
After spending several additional years in the appellate division, Stephens took the bench in June 2000. "I have served Palm Beach County in that capacity for 20 years. I have worked at the South County Courthouse and the Main Courthouse," she said. "I have been assigned to the County Criminal Division, the Domestic Violence Division, and the County Civil Division. My current assignment is the Domestic Violence Division, where I also handle domestic violence injunctions from the Family Division."
Stephens has also worked as an administrative judge. "I currently serve as administrative judge for the Riviera Beach Civil Drug Court," Stephens said. "I volunteer my time to my community in various ways, but currently it is by volunteering my Saturday mornings to the Riviera Beach Civil Drug Court. I have also been assigned to mentor new judges. My job is one of service to my community. I try to make sure that when a person enters my courtroom, they understand the process and are treated with fairness, dignity and respect."
Stephens said that she is uniquely qualified for the job. "A good judge is one that is fair and impartial. For the last 20 years, I have worked to be fair and unbiased, to the best of my abilities," she said.
This has been her lifelong mission. "Even in high school, I had a social action program as part of our school curriculum. In college, I continued my community service work. There was never a time when my activities, from the Girl Scouts to the Riviera Beach Civil Drug Court, did not impress upon me the need to make my community my priority," she said.
County court judges are most likely to see people who are unrepresented and who have never been to court. "The people in my courtroom are often apprehensive and frustrated by their first experience with court. My job is to serve my community and help them understand the process and the court's ruling," Stephens said.
Stephens added that the three most important reasons to vote for her are her experience, passion and dedication.
"The citizens of Palm Beach County deserve a judge with experience," she said. "An experienced judge is able to manage the courtroom efficiently and handle the crises that are facing our justice system currently. I strive always to be fair and impartial."
Stephens noted that she has lived in Palm Beach County for 33 years, working in service to the community all of that time.
"I am dedicated to helping others understand how the system works, and I am dedicated to its purpose," she said. "Being a judge means that you serve the public. My mother, grandmother and great-grandmother, and every school I attended throughout my life, have emphasized the need for service to your community. This job is simply another way to serve the citizens of my community."
Stephens has been endorsed by Women's Issues NOW, the Florida State Lodge of the Fraternal Order of Police, the Human Rights Council of Palm Beach County, the Police Benevolent Association, the AFL-CIO of Palm Beach County and the Treasure Coast, the Sun-Sentinel, the Classroom Teachers Association, and more than 100 attorneys and community leaders.
Learn more at www.keepjudgestephens.com.
Challenger Jaianna Seaborne — The daughter of a retired U.S. Navy chief petty officer and an ordained minister, Seaborne served in the U.S. Air Force, attended Fayetteville State University and graduated from the University of West Florida with a bachelor's degree in legal administration.
"After I completed my enlistment, I attended and graduated from St. Thomas University School of Law," Seaborne said. "I am going into my 15th year of my legal career. I served in Miami Legal Aid in the Civil Injunction Unit; I have served with Catholic Charities Inc. doing pro bono immigration cases; I was the recipient of the Emory University Child Advocacy Grant; and interned with the Georgia juvenile courts. I then served as an assistant public defender in West Palm Beach, where I began in the misdemeanor courts and worked my way to the felony division."
Seaborne later served as staff counsel for a national insurance company. She then started her own practice handling family law cases. "Additionally, I have a position with the Office of Regional Conflict Counsel where I take criminal cases for indigent clients," she said.
Seaborne participates in many community outreach organizations, including Delta Sigma Theta, a public service sorority, and the Tabernacle Missionary Baptist Church outreach program.
"I have tried more than 71 criminal and civil jury trials and more than 15 bench trials," she said. "I am well versed in the law and know that in order to be an effective judge, that current and accurate knowledge of the law is imperative. My experiences, knowledge, respect for others and energy make me the best candidate for this position."
Seaborne said that it is the judge's duty to treat each person who enters court with dignity and respect. "I feel that these things are currently lacking in this position," she said. "I possess the knowledge of the law and the ability to apply the law in a respectful manner that will render fair and impartial decisions, so that no matter who wins or who loses, all participants know they received a fair hearing and can trust the process."
Seaborne said that voters should choose her because of her knowledge, respect and service. "I know the law. I do my research and stay abreast of current changes in the law and am able to fairly and justly apply it to the facts that will be presented in court," she said.
Seaborne believes that she will do a better job than the incumbent.
"I know that the position of judge is a position of service, trust and not that of entitlement," she said. "The judge is entrusted to serve as a neutral and unbiased decision maker. That is a position that is not to be taken lightly or with callousness."
She is critical of her opponent's record in the courtroom.
"My opponent has had 20 years to prove to the citizens of Palm Beach County that she can be a fair and just judge, and, unfortunately, she has failed to do so," Seaborne said. "For the past seven years, she has been convicting people of a non-existent crime, and when those persons attempt to correct the mistake, she has denied the motions and forced appeals, which have reversed her and remanded back for new trials. This has happened several times, and these are just the cases where people could afford to appeal… My opponent lacks the care to ensure that the law is accurately known, followed or applied. This is why I am seeking this position, to ensure that the law is followed and justice is served."
Learn more at www.seaborneforjudge.com.