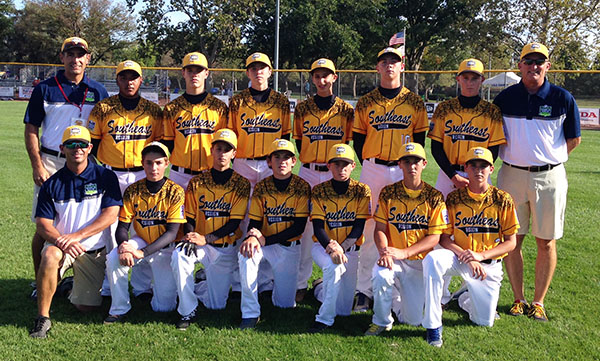 BY MIKE MAY
Johns Hopkins University, Vanderbilt University, Stanford University, Ohio State University, Carson-Newman University, Fairleigh Dickinson University, Loyola University New Orleans and Embry-Riddle Aeronautical University.
Those are the eight universities where nine former members of the Wellington Colts Little League travel baseball team are headed this fall to pursue a college degree and to continue playing ball at the next level.
For most of them, the sport will be baseball, but Griffin Lampton, a Vanderbilt commit, has traded in his baseball spikes for football cleats. He's making the transition from patrolling center field to playing defensive end and linebacker on the football gridiron for the Vanderbilt Commodores in Nashville.
It's no surprise to local coaches, parents, administrators and opposing players that players on that Colts team that advanced to the Little League Intermediate (50/70) Baseball World Series championship final in 2015 in Livermore, California, are now making plans to play college ball. Clearly, they are keeping their athletic dreams alive.
"They are all going to great academic schools, which is huge," said Chad Mills, their head coach/manager. "They are all very fortunate."
It seems like yesterday when the Colts — winners of the U.S. title in Livermore after beating teams from California, Minnesota, New York, Texas and Hawaii — advanced to the grand finale to play South Korea, which had won the Little League World Series title for their age group the year before in Williamsport, Pennsylvania. Even though South Korea won that championship game 10-5, the loss didn't dampen the baseball spirit and enthusiasm of the Wellington Colts, who returned home national champs.
When the Colts — all with ties to Wellington — graduated from middle school and advanced to high school, they divided and separated, but they continued to lead in their own way.
Shawn Steuerer enrolled at the Oxbridge Academy in West Palm Beach and became the starting third baseman for the Thunderwolves. He's headed to Johns Hopkins in Baltimore. He'll be studying electrical engineering, when he's not breaking down game film of the opposition.
Like his other teammates, Steuerer is bigger, taller, stronger, faster and better than he was when he faced the South Koreans in 2015.
"Five years ago, Shawn was 5-foot-6 and 130 pounds. Now, he's 6-foot-4 and 210 pounds," Mills said.
Who would win if the Wellington Colts and the South Korean team met again in 2020 on the baseball diamond?
"I think we would win in a rematch," Steuerer said.
"We would definitely win," Mills agreed. "Back then, we were tiny compared to them."
And, what would have happened if those 10 Colts had all attended the same high school together?
"We would have won a few state titles, possibly becoming one of the top high school baseball teams in the country during our careers," Steuerer imagined.
Steuerer has powerful genes on his side as his father. Jerry Steuerer owns Scotty's Sport Shop in Wellington and played NCAA Division II college basketball at the University of Bridgeport in Connecticut) from 1975 to 1979. He was a third-team All-American in his senior year when he led the team to the NCAA Division II Final Four. Unfortunately, the team ended up losing to North Alabama in its national semifinal game by just one point.
"That [Colts] team was loaded with pitching, power, speed and lots of talent," Jerry Steuerer recalled. "That was a fun team to watch play, and they usually won. As a parent, I miss those days."
Fortunately, his baseball watching days remain alive and well since his son is headed to Johns Hopkins, which will require a few visits to the Baltimore-based campus, an NCAA Division III school, when the next college baseball season starts in 2021.
As for the other players on the Colts, twin brothers Jaden and Ryan Bruno, who graduated from the American Heritage School in Delray Beach, have signed with Stanford University in California. Both boys will be pitching for Stanford in 2021 and beyond. According to Mills, they have what it takes to play college baseball, as their fastballs exceed 90 miles per hour.
Jake Mills, a teammate of Steuerer's at Oxbridge, pitches and plays shortstop. He will be a Buckeye at Ohio State in Columbus, Ohio. "Jake has a high baseball IQ and has always wanted to be the guy in clutch time," said his father, the coach.
Outfielder Sam Astern, a Bronco from Palm Beach Central High School, will be attending college and playing baseball for the Eagles of Carson-Newman in Jefferson City, Tennessee.
"Sam tracks the ball in the outfield as well as anyone," Mills said.
Jude Baxt, also a Palm Beach Central graduate, will be pitching for the Knights at Fairleigh Dickinson in New Jersey.
"For us, Jude was a bulldog on the mound," Mills said.
Andrew Reidell, a graduate of Cardinal Newman High School, is now pitching for the Wolf Pack at Loyola in New Orleans.
"He had a nice freshman season at Loyola and will improve next season," Mills said.
Fellow teammate Jacob Baughman, a 2019 graduate of Suncoast High School, is currently enrolled at the U.S. Air Force Academy in Colorado. He played baseball as a freshman for the Falcons, but he has stopped playing baseball so he can focus on his academics and the rigors of what it takes to be a pilot.
Another member of the Colts who didn't make the trip to California in 2015 was infielder Nick Hoffman, who had suffered an injury. Hoffman graduated from Palm Beach Gardens High School this year. He'll be playing second base for the Eagles of Embry-Riddle in Daytona Beach.
"He can play anywhere in the infield," Mills said.
Clearly, those 2015 Wellington Colts had lots of talent and knew what it took to play winning baseball. They also played with passion and purpose.
"The Colts shared a great friendship, strong chemistry and genuine camaraderie," Mills said. "They played well together as a team."
And, that's why they were winners then, and why they remain winners to this day.