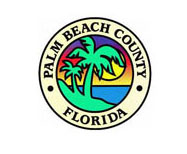 The Palm Beach County Commission on Tuesday, July 28 reviewed steps being taken to control COVID-19, centering on expediting delayed testing results that health officials explained are hampering their effectiveness.
Commissioners were concerned that test results were taking seven to 11 days to process, during which time a person who has been tested could have been in contact with many other people.
Commissioner Melissa McKinlay asked Florida Department of Health-Palm Beach County Director Dr. Alina Alonso if college laboratories could be converted to testing labs to expedite the process, and Alonso said they are not equipped or licensed to run the tests, adding that it is their prerogative to make that decision.
McKinlay asked if there is a way that the licensing and supplying of equipment to labs could be expedited in order to speed up the test results.
"[Florida Atlantic University] has a medical school, so I'm sure that there is some capability there," she said. "We've got Scripps here; we've got Max Planck. What kind of costs are we looking at?"
Alonso explained that the university labs are set up for research, not disease testing.
"We'd have to talk to each one about making that investment," she said.
Palm Beach County Emergency Management Director Bill Johnson said that he has been in contact with the state's Emergency Operations Center, which has had conversations with state university labs since February about setting up testing labs.
"The complications that there are in terms of converting a scientific lab into a medical laboratory are enormous," Johnson said, adding that emphasis has been put on upscaling private testing facilities, which are approved by most insurance companies.
McKinlay said the process must be speeded up somehow.
"The experience I've had with my own family members, and waiting 11 days for results, somebody who has been tested is not going to sit home on unpaid sick leave from their hourly wage job for two weeks while they wait for results," she said. "If it's positive, they've been out in the community for two weeks."
Palm Beach County Administrator Verdenia Baker said that private companies have proven to be faster in getting results than public labs.
"We are encouraging our employees to use our insurance. They don't have to pay a copay, and it does turn around quicker," Baker said.
Alonso stressed that procedures in effect now, with social distancing, mask wearing and limiting the opening of some businesses, are the key to controlling the pandemic. She noted that when some businesses re-opened in Palm Beach County, the numbers started going up again.
"We have to be very careful going forward that once we reach the numbers we want to reach, that we continue the social distancing, the masking — that cannot stop," she said.
Alonso added that the state has sent contact tracers to Palm Beach County to help get in touch with people who might have been exposed.
"We are now letting them work not only from their homes, but they are actually able to go back to their hometowns and work remotely," she said. "That saves taxpayers money by not having to pay for their hotels."
Johnson noted that almost 244,000 people in Palm Beach County have been tested, adding that the most recent overall positivity rate for people tested was 12.4 percent.
"Last week, we saw fewer patients hospitalized with COVID-19," he said. "That was an average of 16 patients per day countywide. While our deaths are up to 758, the death rate continues to decrease."