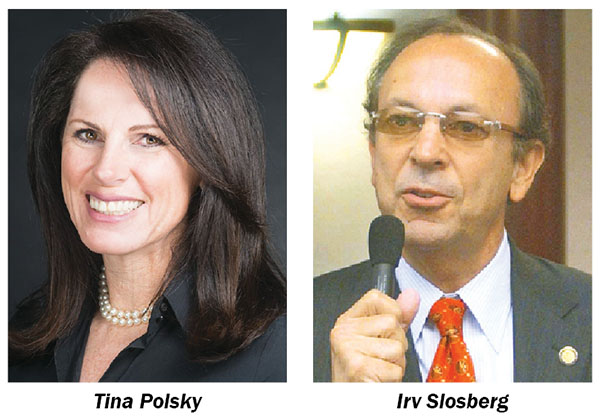 The surprise decision of State Sen. Kevin Rader (D-District 29) not to seek re-election this year has created an opening for incumbent State Rep. Tina Polsky (D-District 81) and former State Rep. Irv Slosberg, who are vying in a Democratic primary to replace Rader.
District 29 includes all of Wellington, as well as Boca Raton and its western suburbs. The district also includes the Glades communities of Belle Glade and South Bay.
While District 29 trends Democratic, the winner of the Aug. 18 primary will face a general election campaign against Republican businessman Brian Norton, who is positioning himself as a bridge builder capable of working with both sides on the issues of school safety, climate change and healthcare.
Tina Polsky — Polsky gave up her Boca Raton-based District 81 seat to run for the position and entered the race with Rader's endorsement. An attorney, she was elected to her current position in 2018.
Saying that it has been an honor to serve as a state representative from District 81, Polsky said that she is now ready to work for Wellington residents as well in a new position to give all her constituents a voice in government.
"I have worked on important initiatives, such as gun safety and a woman's right to choose," Polsky said, adding that she has a track record in advocating for public schools, protecting seniors, providing affordable healthcare, supporting equal rights for all and flighting climate change.
Polsky said that Florida's unemployment assistance crisis is a priority and the state must fix a system that is broken. "The automated system does not work and needs an overhaul," she said.
Polsky she said that she looks forward to more bi-partisan work in the State Senate and that Florida's COVID-19 response will take precedence over just about all else in the near future.
However, she added, recent protests have brought to light inequities and racial injustice that also need to be addressed. "It is a lot to work on, but I have the experience," Polsky said.
The Aug. 18 election is a closed primary and only Democrats will be permitted to vote. She encouraged all those who wish to participate to check their party affiliation and to sign up for vote by mail. "In all likelihood, the winner of this [primary] will be the winner [in November]," Polsky said.
An attorney and certified mediator, Polsky is proud of her endorsements. "The Sun-Sentinel just came out pretty strongly for me," she noted.
Others include: the AFL-CIO, the teachers' unions in Broward and Palm Beach counties, the SEIO, the FEA, Ruth's list, the National Organization for Women, Planned Parenthood, U.S. Rep. Ted Deutch, State Sen. Lori Berman, State Sen. Janet Cruz, State Rep. Michael Gottlieb, Broward County Commissioner Mark Bogen, Palm Beach County Commissioner Bob Weinroth, Palm Beach County School Board members Marcia Andrews and Frank Barbieri, Mayor Christine Hunschofsky of Parkland, Mayor Joe Kyles of South Bay and Mayor Steve Wilson of Belle Glade, among others.
In her spare time, Polsky does charity work and serves on the Anti-Defamation League's Civil Rights Committee. Married to her husband Jeff with two children, Polsky has lived in Palm Beach County for 15 years.
Learn more about her campaign at www.tinapolskyforsenate.com.
Irv Slosberg — Slosberg has served in the Florida House of Representatives for 12 years, from 2000 to 2006 and from 2010 to 2016. His main priority has always been public safety issues. He is known as a traffic safety advocate, which he became in the aftermath of a devastating tragedy.
Born in 1947, he is the father of three children, one of which, Dori, was killed as a teenager in a 1996 accident involving reckless driving where the driver had been drinking. Dori's twin, now State Rep. Emily Slosberg (D-District 91), is the only walking survivor of the wreck that killed five people, one other survivor being left a quadriplegic. As a result, Slosberg has devoted the ensuing years of his life to public safety.
Slosberg said that he had a happy childhood and early life and ran two successful businesses. "I loved my life," he said, adding how that all ended abruptly with the accident. "My [daily] life became going to the gym, having a Starbucks and going to the cemetery to cry."
When he decided to begin living again, public safety became his passion.
"I decided I could feel sorry for myself or make Florida a better, safer place to live," Slosberg said.
He successfully passed legislation and brought in millions of dollars in funding to foster public safety. "That's why I am running," Slosberg said. "Look around, Florida isn't safe."
For example, he is proud of a surcharge he had placed on moving violations. "I added $5 to traffic tickets, and that money goes directly to drivers' education," he said. "It has raised $55 million and saved tens of thousands of lives."
His foundation has been proactive in recent times creating and contributing resources toward traveling safer during the COVID-19 crisis.
While he has the support of his daughter and some others, Slosberg doesn't put his focus on endorsements.
"When I ran before, my competitor had the endorsement of everyone except God," he remarked. "I had the endorsement of the people… Now I am executive director of the largest Democratic club in the state."
Slosberg said he is prepared for today's challenges. "It's not safe with COVID-19. Gov. [Ron] DeSantis is making bad calls… We need more funding, more testing… I'm ready."
Slosberg agreed with Polsky that the unemployment system needs repair. "The whole mechanism is broken," he said.
He urged residents in the Wellington area to support his campaign.
"I am a veteran who understands how to pass legislation and bring money home," Slosberg said. "Let Irv serve."
Learn more about Slosberg's campaign at www.letirvserve.org.