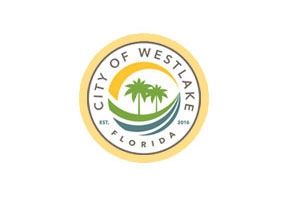 The Westlake City Council approved a preliminary Truth in Millage (TRIM) property tax rate of 5.125 mills for next fiscal year, the same as the current year, at its meeting Monday, July 13.
City Manager Ken Cassel said the growing community's taxable value increased by 110 percent due to new construction. A property tax rate of 5.125 mills will generate just over $1 million, with developer Minto donating about $2 million to cover most of the balance of the $3.2 million budget, which is a decrease over the current year's $4.7 million budget.
Ad valorem taxes are projected to cover 34 percent of the budget, while the developer will pay 52 percent, and the remainder covered by permit fees, franchise fees and other revenue sources, which are forecast to drop about 17 percent.
"We should be off developer funding by 2026," Cassel said. "We have to be continually tightening [the budget]."
He explained that the decrease in developer support would be offset in the future as more homes are built in the community, which currently has about 500 residential units occupied.
There are several more public hearings required before the budget for fiscal year 2020-21 is finalized. However, while the council can lower the tax rate, it cannot be raised once the TRIM rate is set.
In other business:
• The council approved a recreation center for active seniors to be located in the planned Cresswind development.
The 13,728-square-foot facility with a 4,503-square-foot covered porch will have several amenities, including outside cabanas, a swimming pool, an entertainment stage, tennis and pickleball courts, horseshoes, a mail kiosk, a perimeter walking path and a dog park.
Councilman JohnPaul O'Connor said he was pleased to see golf cart parking, which has been discussed by the council in the past.
Councilman Patric Paul made a motion to approve the plan, which carried 5-0.
• The council postponed the creation of an education and youth advisory board in order to increase the number of members from three to five and to review the large number of applicants.
Members will serve three-year terms, and one alternate will serve a two-year term. Council members said more applications are being accepted and suggested scheduling a workshop to review the applications.
Vice Mayor Katrina Long-Robinson, who had introduced the idea of having an education and youth advisory board, made a motion to table approval for a month to give the council time to review all applications, which carried 5-0.
Robinson also made a motion to increase the number of members to five with one alternate, which also carried 5-0.
• Cassel announced that the city had gotten a modified flood plain map for the Hammocks development, which will give those residents a substantial savings on their insurance.
He said homeowners will need to notify their insurance companies. The necessary documents will be posted online at www.westlakegov.com.
• The council also gave input into rules regarding the optional installation of permanent standby generators alongside homes after a discussion of whether the five-foot setbacks would accommodate them. Westlake's code will require screening of the generators. Cassel said that his staff would construct an ordinance and have it back before the council for approval.
• Finally, the council approved a time extension for Florida Public Utilities to build a pipeline up Seminole Pratt Whitney Road, after efforts to put the pipe alongside the M-1 Canal ran afoul with Florida Power & Light, which has a power line there.
Florida Public Utilities currently has a temporary gas pressure reduction facility at the northeast corner of Seminole Pratt Whitney Road and Southern Blvd. to serve existing Westlake customers.
Councilwoman Kara Crump made a motion to approve the time extension, which carried 5-0