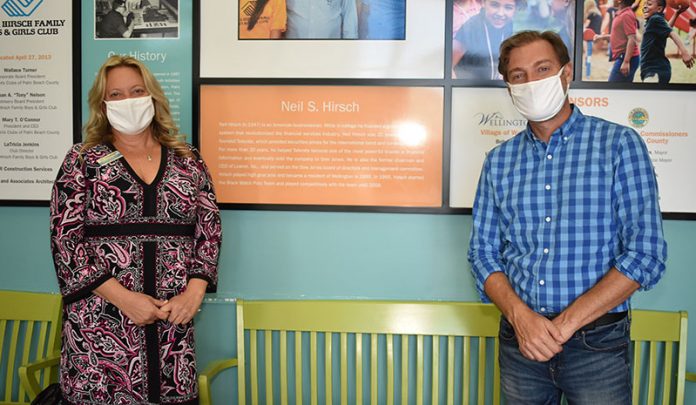 Monday, Aug. 10 was the first day of extended summer camp at the Neil S. Hirsch Family Boys & Girls Club in Wellington. The Boys & Girls Clubs of Palm Beach County has extended its summer camp schedule through Aug. 26 to account for the delayed start of Palm Beach County public schools.
Once distance learning starts for students on Monday, Aug. 31, the nonprofit hopes to keep sites open during regular school hours and remain open until 7 p.m. weekdays. The expanded schedule will allow club members to have a safe space to go as classrooms remain closed. The plan still needs to be approved by the Boys & Girls Clubs of Palm Beach County Executive Board.
"I commend our parents for asking us to stay open during regular school hours for distance learning so that they do not have to quit their jobs," President & CEO Jaene Miranda said. "By our clubs opening, we can help them with the peace of mind that their children are safe while they are at work."
Currently, the Boys & Girls Clubs of Palm Beach County is investigating the added costs associated with extending operating hours, which includes extra staff and internet upgrades. The clubs also plan on feeding members breakfast, lunch, a snack and dinner at no cost to families.
"Sometimes doing the right thing is not the easy thing, but we do whatever it takes to make sure that our club members are safe and are not academically falling behind because of an achievement gap created by distance learning," Miranda said. "We need to raise at least $775,000 to cover the additional operating costs. Our executive board will ultimately decide if it is feasible."
This summer, clubs across Palm Beach County have been able to host, on average, more than 750 children a day. The number is limited due to COVID-19 safety guidelines. Typically, the clubs are able to host more than 2,000 club members on a summer day. To help those members who cannot attend, the nonprofit created a new virtual club at www.bgcathome.org. It provides live interactive programming five days a week with activities that are led by staff members that the children know and trust. The programing features educational courses, the arts, social-emotional mentoring, career building, STEM and physical activities.
Clubs also continue emergency food programs that started immediately after schools closed in March. The nonprofit has handed out more than 500,000 meals to children in the county, and more than 55,000 club family members have received a week's worth of groceries.
If you would like to help the Boys & Girls Clubs of Palm Beach County stay open during school hours to help children with distance learning, visit www.bgcpbc.org to donate.