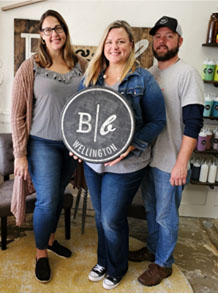 The owners of Board & Brush Creative Studio in Wellington quietly yet determinedly opened their doors May 22.
Now, some four months later, they're finally ready to celebrate their place in the community and express their gratitude to all who supported them as their journey unfolded during this most extraordinary of times.
The studio is owned by sisters Stefani Kochanski and Kati Erickson, and Kati's husband Chris. They are hosting an open house themed to "It's Fall Y'All" on Saturday, Oct. 3 from 1 to 3 p.m. Masks are required, and a limit of 16 people will be allowed in at a time.
The open house is free and open to the public, with no RSVP necessary. The first 30 people will receive a gift bag with coupons and other treats, and all guests will have a chance to win a private VIP sign-making party for six valued at more than $400.
On Sunday, Oct. 4, the autumn theme continues at the studio with two special "make-and-take" workshops, featuring fall and Halloween designs, with the workshops an easy 45 minutes from start to finish.
Board & Brush Creative Studio is located at 13889 Wellington Trace, Suite A1, in the Wellington Marketplace plaza. For more information, or to register for a workshop to create your own home décor piece of art, visit www.boardandbrush.com/wellington.