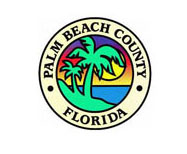 UPDATE: Mayor Dave Kerner met with Gov. Ron DeSantis on Thursday, Sept. 3 and delivered a letter requesting to move Palm Beach County to Phase 2. Palm Beach County sent the letter and the County's Incremental Phase 2 Re-Opening Plan to the governor late Wednesday requesting that the county be moved to Phase 2 and re-open additional businesses and services. The governor has granted the Phase 2 re-opening as of Tuesday, Sept. 8.
The Palm Beach County Commission agreed Tuesday, Sept.1 to send a request to Gov. Ron DeSantis to initiate Phase 2 COVID-19 restrictions after Labor Day. The decision came after receiving favorable reports from Palm Beach County staff and Dr. Alina Alonso, director of the Florida Department of Health-Palm Beach County.
"I'm very happy to be here with good news," Alonso said, referring to sustained reports of COVID-19 cases and deaths down to controllable levels in Palm Beach County.
As of Tuesday, the county had a cumulative reported a total of 41,965 confirmed cases and 1,136 fatalities with overall testing positivity rate of 12.98 percent. However, the current daily positivity rate stands at 3.49 percent, and the current positivity rate per 100,000 cases is 2.9 percent.
Alonso said the current numbers are very good but warned against acting rashly. "There is still a long road ahead of us," she said. "We are nowhere near to having herd immunity."
Alonso noted that Palm Beach County remains at third place in the state, behind Broward and Miami-Dade counties, which have had the highest number of cases in Florida. The three South Florida counties are the only ones that remain in Phase 1 restrictions under the governor's orders.
In Broward County, 186 new virus cases were reported Sunday, bringing the total to 70,950. A total of 1,209 people in Broward have died from the virus. No new deaths were reported in Broward on Sunday.
Miami-Dade County had 521 new cases reported, bringing the total to 156,559. A total of 2,421 people in Miami-Dade have died from COVID-19.
Palm Beach County reported 135 new cases with no new deaths Sunday.
The commissioners reviewed staff recommendations for an incremental Phase 2 re-opening of certain entertainment venues, schools and other businesses in Palm Beach County after Labor Day.
Following several hours of discussion and public comment, board members agreed to send a letter to the governor requesting approval of an incremental Phase 2 plan. Mandatory face coverings, physical distancing and enhanced sanitation practices will continue to be enforced.
"I want to thank everyone in this county," Alonso said. "This has been definitely an effort of all of our citizens, our residents, our visitors, as well as our business partners. They've been doing a great job, and we need to make sure that we continue to stop the spread of COVID-19. The virus has not gone away, and we need to follow all of the things that we have made this a success so far."
She also thanked the COVID-19 Education & Compliance Team.
"They have been stopping the bad actors so that the good actors can stay in business," Alonso said. "They have found numerous locations where the age group of the 15 to 35, which is the one that is having the most activity in terms of positivity, have been gathering. By closing those down, we have drastically been able to stop the spread of the virus."
The phased re-openings are contemplated in five steps and start with the re-opening of certain indoor entertainment venues, such as bowling allies and movie theaters, with a number of restrictions.
This would be followed by a re-opening of in-person instruction at public schools, as determined by the Palm Beach County School Board, but recommended for about a month from now.
Additional indoor entertainment would open in a third step, moving to further reduced restrictions on entertainment venues in step four. Bars and other businesses considered particularly dangerous for spreading COVID-19 would be in the final step and would require the governor's approval.
The commissioners voted 4-2 for the phased approach, with commissioners Hal Valeche and Robert Weinroth dissenting. They favored an immediate, unphased entry into Phase 2. Commissioner Mary Lou Berger was not present.