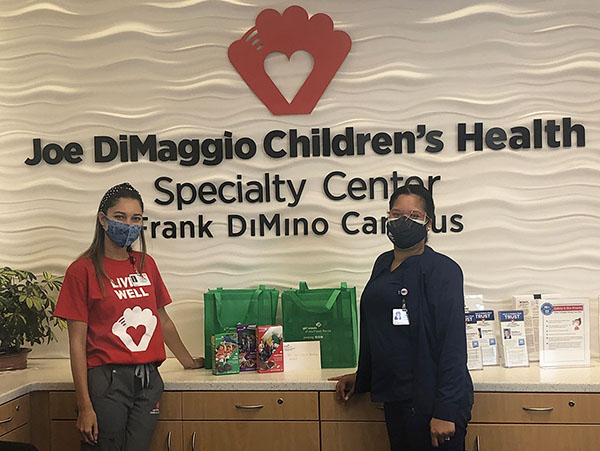 The Girl Scouts of Southeast Florida recently donated 550 boxes of Girl Scout cookies to various local healthcare organizations as a way of saying thanks. The organizations that benefited from this "sweet" donation were the Quantum House, Bethesda Hospital West, Joe DiMaggio Children's Health Specialty Center Wellington and Holy Cross Health. The three healthcare systems are all providers of healthy lifestyle and wellness-themed programs for Girl Scouts throughout the South Florida area.
"This was our small way of saying thanks to those healthcare workers who have put in so much time and effort to keeping our families and communities safe and healthy during the pandemic," said Lisa Johnson, CEO of the Girl Scouts of Southeast Florida. "Through our strong partnership with these amazing organizations, we've been able to still collaborate and offer virtual health-related programs during these unprecedented times."
The Girl Scout Cookie Program is an essential part of the entrepreneur programs offered by the Girl Scouts of Southeast Florida. Every year, girls learn important skills through their participation like budgeting, money management, business ethics and customer service. Girl Scout Cookies go on sale again on Jan. 21, 2021.
For more than 100 years, Girl Scouts has built girls of courage, confidence and character who make the world a better place. More than any other organization, the Girl Scouts of Southeast Florida empowers girls ages 5 to 17 with vision and voice — girls who command their future, engage their communities and inspire others.
The Girl Scouts of Southeast Florida is committed to meeting the needs of today's girls by providing the Girl Scout Leadership Experience that will help her develop skills and create a strong foundation for future success. The group serves nearly 9,000 girls in Broward, Palm Beach, Martin, St. Lucie, Indian River and Okeechobee counties.
To explore opportunities to volunteer or partner with Girl Scouts, call (561) 427-0177 or visit www.gssef.org.