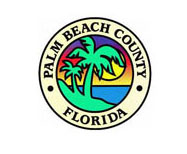 On Friday, Sept. 25, Palm Beach County Mayor Dave Kerner gave an update at the Emergency Operations Center (EOC) on local COVID-19 mitigation efforts. It was the 193rd consecutive day of EOC activation. On Thursday, Sept. 24, Kerner signed the 29th declaration of state of emergency for the county.
The daily positivity rate in Palm Beach County stands at 2.92 percent — the lowest rate since May 18. Step 1 of the county's incremental Phase 2 re-opening plan has gone well, Kerner said. Local public schools opened brick and mortar campuses on Monday, Sept. 21. Palm Beach County, School District and Health Department officials will continue to gather and analyze the health metrics and monitor for significant resurgence or negative public health impacts from school re-opening.
Earlier om Sept 25, Gov. Ron DeSantis moved the entire state into Phase 3 of his step-by-step re-opening plan. As a result, all businesses that had been closed in Palm Beach County may now open. This includes standalone bars, nightclubs and adult entertainment establishments; hookah, cigar and other smoking bars and lounges; auditoriums; concert halls; bingo parlors; and comedy clubs. All businesses in the county will be limited to an operating capacity of 50 percent.
"Our measured response has been effective," Kerner said, "but the governor has reiterated that we still have a long way to go in the COVID-19 battle, and this government in Palm Beach County will not relent."
The COVID Education Compliance Team (CECT) will continue to inspect establishments. To date, 4,650 complaints have been processed; a total of 6,900 complaints have been received. Education remains the team's primary focus. The public comment line is (561) 24-COVID.
See video from the press conference below: