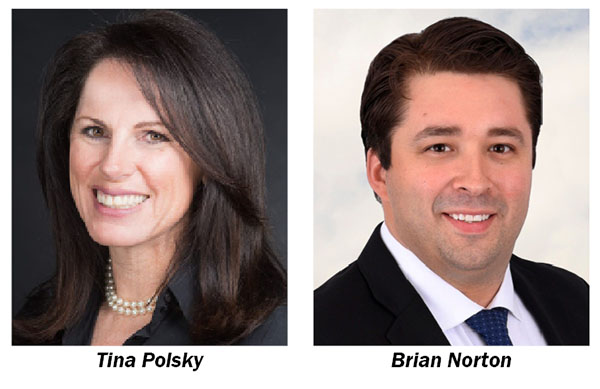 The retirement of State Sen. Kevin Rader (D-District 29) has set up a race between State Rep. Tina Polsky (D-District 81) and businessman Brian Norton in the race to replace Rader as the state senator for a large part of central and southern Palm Beach County.
With each Florida Senate seat representing about a half million constituents, District 29 covers all of Wellington, sweeping south along State Road 7 to take in all of Boca Raton and its western suburbs. Other areas include the Glades communities of Belle Glade and South Bay, as well as a small piece of northern Broward County. The area trends Democratic.
Rader, who chose not to seek re-election, endorsed Polsky for the seat. She then defeated former State Rep. Irv Slosberg in the Democratic primary. Polsky, who gave up her seat in the Florida House of Representatives to run for the position, now faces Republican entrepreneur and business consultant Brian Norton in the general election. Norton was unopposed for his party's nomination.
The Town-Crier spoke to both remaining candidates about their background and the qualifications that make each of them the best choice for the position.
Tina Polsky — Polsky noted that she has lived in the district for 15 years and is a lawyer who is in practice as a professional mediator.
"Two and a half years ago, I ran for my current State House District 81 seat, an area that does not include Wellington," she said. "My background is legal, community based, and I now have the experience of two years in the House. I have relationships already built up across the aisle, and I have strong support among the members of my own caucus."
Polsky saw Rader's retirement as an opportunity to expand her public service.
"I have the opportunity to represent three times as many constituents in the larger area, and in the Senate, where you have a better chance of having your legislation heard, and you can work easier across the aisle," she said. "You have a better opportunity to work on your legislative agenda and get your important work done."
Polsky explained the three most important reasons someone should vote for her, starting with her experience. "I'm ready on day one," she said. "I'm ready on Nov. 4 to get to work on the horrible disaster that is our unemployment system."
Polsky also said that her constituent services are second to none.
"Wellington doesn't know it yet because I haven't represented them yet, but I get a ton of compliments about how we helped when other people wouldn't," she said.
She also vowed to be accessible to residents. "I am intelligent and a hard worker," Polsky said.
Polsky added that she knows every problem facing the community has been amplified by the COVID-19 crisis. "I'm diligently getting the message out to as many constituents as possible make sure we get an unemployment system that works and that we get more money for the people who need it," she said. "You need someone with the experience in the trenches right now, ready to go to represent the area. Check my record. It speaks for itself."
She believes that it will require more staff to fix the unemployment system. "We need more trained humans instead of relying on an automated system that collapsed when we needed it," Polsky said.
That is just one of the issues that she wants to work on.
"I have worked on important initiatives such as gun storage safety and money for public schools," Polsky said. "I'm a very strong advocate for school funding. Tallahassee tried to split the money we were raising with charter schools, and I showed up on the floor and fought for that to make sure that the Palm Beach County language was upheld."
Aside from Rader, a wide array of local groups have endorsed her, including the AFL-CIO, the teachers unions in Broward and Palm Beach counties, the SEIO, the FEA, Ruth's List, NOW, Planned Parenthood, U.S. Congressman Ted Deutch and a wide array of other local officials, including Palm Beach County School Board Member Marcia Andrews, who represents the western communities.
For more information about Polsky, visit www.tinapolskyforsenate.com.
Brian Norton — Norton stressed that he is not a typical political candidate.
"I am not a politician," he said. "I am husband, father, small business owner… and a voter. I am Republican, and I am happily married to a Democrat. I come at the campaign from a voter's perspective."
A Wellington resident before settling in West Boca in 2013, he and his wife now have three elementary-age daughters.
"What makes me the best candidate is the fact that I am running to benefit our community," Norton said. "I am not interested in playing partisan politics. I am interested in getting real results for our community, like funding for school safety and infrastructure improvements."
Norton explained that he has an entrepreneurial background.
"I started a landscape company in 2011 and sold it in 2018 after I grew it to employ more than 30 employees," he said. "Now I work in business consulting. Before landscaping, I worked in the IT industry, and I have a bachelor's degree in religious studies from UNC Chapel Hill and Business Essentials from the University of Pennsylvania's Wharton School of Business."
He said he will bring a different point of view to the State Senate.
"I have a well-rounded background, and I am not judgmental," Norton said. "I recognize that everyone is right from their own perspective. I have worked in many industries, worked from the bottom up, started a small business, coached youth basketball, sat on my HOA board and now I want to further serve my community."
Community service is why he wants the job.
"I am running because I want to help the people of our district, not only by delivering results to our community, but to also demonstrate that we don't need to turn every issue into a partisan debate, and it is possible for both sides to work together," Norton said. "As voters, we expect our legislators to do their job to provide a stable social, legal and economic infrastructure, so that all of us can fulfill our right to pursue happiness… I am running because I want to give people a future they can look forward to."
Norton listed the three most important reasons someone should vote for him. First, he will work to keep the pandemic under control with rapid testing and more targeted responses to future outbreaks. Secondly, he will work to get people back to work and get small businesses re-opening to help keep people in their homes and rebuild a community that is stronger after the pandemic.
Finally, Norton will work at getting state funds to help the community with infrastructure improvements, improving schools, reducing traffic, attracting new businesses, expanding green spaces, preserving clean water, and public safety by modernizing law enforcement and fire-rescue services.
"I am asking the people for the opportunity to serve our community, to help strengthen our community for future natural disasters, and to build a better future for our children," he said.
For more information about Norton, visit www.norton2020.com.