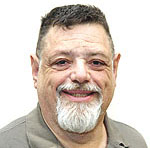 'I' ON CULTURE
For those who like well-written historical drama, I recommend Netflix's The Trial of the Chicago 7. Since it was written by Aaron Sorkin of The West Wing, Sports Night and a nice group of well-done movies, it is hardly surprising that the dialogue is sharp, pointed and ever so dramatic. But there is a problem in the story. Sorkin remains remarkably close to the truth in terms of what happened (with some shifts in chronology to make dramatic points), and he has managed to make a 50-year-old trial completely relevant. Yet there are too many issues piled on top of the main one.
The issue comes from what actually happened. A gathering of anti-war groups at the 1968 Democratic National Convention in Chicago led to a series of riots. While the Democrats who ran the city claimed the riots were due solely to the actions of the radical demonstrators, many observers felt the tough, brutal actions of the police, many of which were shown on television, escalated the problems.
At any rate, despite having been helped into office by the whole mess, the newly elected Nixon Administration decided to go all out and jail a "leadership" that really did not quite exist. As a result, eight people were originally charged, including Bobby Seale (Yahya Abdul-Mateen II), a Black Panther leader, who was never really sure why he was included and was horribly treated. His case was separated from the others but he was sentenced to four years for contempt of court. He was released a few years later with no apologies.
The rest of the group were wildly different. Abbie Hoffman (Sasha Baron Cohen) and Jerry Rubin (Jeremy Strong) were basically political clowns, particularly Hoffman, since Rubin was stoned much of the time. Tom Hayden (Eddie Redmayne) was an anti-war, anti-poverty protest organizer. David Dellinger (John Carroll Lynch) and Rennie Davis (Alex Sharp) were strong anti-war leaders. The other two sort of faded into the background. The defense team led by William Kunstler (Mark Rylance) worked diligently, but with such a diverse group, particularly the very theatrical Hoffman, things fell apart quickly.
Hoffman, by far the loudest, was more interested in amusing himself, while Dellinger and Hayden and most of the others wanted to talk about Vietnam. Added to that, Judge Julius Hoffman (Frank Langella) clearly disliked everything about the group, beginning with their long hair (the first thing he had done when he sent the defendants to prison for contempt was to have their heads shaved) and ending up with their disruption of his court. When he started the trial, he, not really joking, stressed that he and Abbie Hoffman were not related. The younger man yelled out, "Dad, dad, thou has forsaken me." The differences in methods and purposes only confused many of the issues.
Sorkin does beautifully bringing up the political points. The trial lasted months, and Sorkin found a series of important exchanges, most of them actually real, to make a point about the corruption of power in its desire to get opponents silenced. Sorkin used flashbacks to show what was being talked about, which made the points far more powerful. He is helped by a brilliant cast. Cohen was fine as the clownish Abbie Hoffman, who clearly enjoyed pushing the judge to lose his temper. Mateen II was powerful as Seale. Tied up and gagged, his eyes flashing as he attempted and failed to be able to make his points verbally; the image of the silencing was easily as powerful as any words might have been. Langella was superb as the judge. Although playing an unsympathetic and unpleasant role, he actually seemed to inhabit the person. Rylance as defense lawyer Kunstler and Joseph Gordon-Levitt as Richard Schultz, the prosecutor, were both superb. Rylance, as usual, crept beneath the skin of the famed radical attorney (who I met several times at alumni dinners for my high school), a very decent man horrified by the casual violation of law or any sense of justice. Gordon-Levitt had a far trickier job as a man forced to do a job he really did not want to do.
This is a strong political movie, and it does have a point of view. Yes, there were riots, and at least some of the people selected for trial were involved. But even those people deserved and did not receive a fair trial. The trial covered just about no one with glory and lot of folks with shame. We should remember it, and Sorkin does a good job of bringing it to life. If you have Netflix, you should see it.