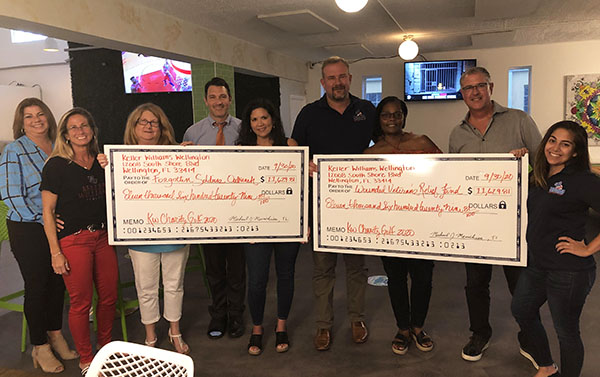 On Sept. 30 at Hopportunities in Delray Beach, the Veterans Golf Tournament Committee of Keller Williams Wellington presented Forgotten Soldiers Outreach and Wounded Veterans Relief Fund each with checks in the amount of $11,629.80.
The golf event was held on Sept. 19 at the Madison Green Golf Club with smiles spread throughout the tournament. Keller Williams Wellington wanted to thank the military and veterans by holding a charity golf tournament to raise the much-needed funds for both charities.
Keller Williams Wellington sold out within a week of publicizing the event. Special thanks to Platinum Sponsors Elder & Estate Planning Attorneys and Retreat Behavioral Health; Gold Sponsors: Wedgworth Farms, Waypoint East, Merrill Lynch, Roth Farms, Guardian Angel Inspections, Producers Title, Pratt Whitney and Everglades Farm Equipment; along with the other sponsors and underwriters Florida Crystals, Designer's Touch Jewelry, PRMG, KW Lenders, Burger Fi, Minto Homes and many more from the community.
Forgotten Soldiers Outreach has benefited more than 450,000 of military members all over the world through monthly "We Care" packages sent to troops overseas. For more information about Forgotten Soldiers Outreach, visit www.forgottensoldiers.org or call (561) 369-2933.
The Wounded Veterans Relief Fund exists to provide emergency financial support to qualified disabled veterans living in Florida. For more information, e-mail info@wvrf.org or call (561) 855-4207.
Keller Williams Wellington CEO Michael Menchise was pleased with the successful event.
"Pay it forward. These simple three words are very important to the Keller Williams Wellington family of agents," he said. "My entire team is passionate about giving back and making our community a better place and there is no better component to our community than our veterans."
Keller Williams Wellington is located at 12008 South Shore Blvd., Suite 201, in Wellington