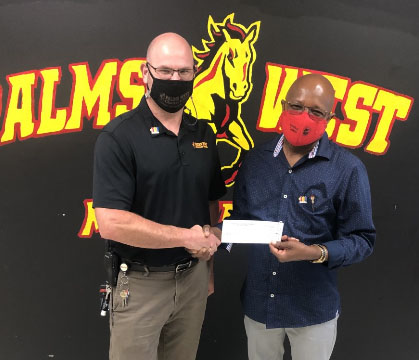 Palms West Charter School recently partnered with the Royal Palm Beach Rotary Club to raise money for families in Louisiana who were hit hard during recent hurricanes.
"We are very proud of the Royal Palm Beach Rotary Club for assisting in our fundraising efforts," said Steve Epstein, principal of Palms West Charter School. "They provided a check for $500 to assist with hurricane relief efforts in Louisiana."
The school then raised another $500.
"In total, we are sending $1,000 to the Charter Schools USA foundation, the Giving Tree," Epstein said. "Charter Schools USA (the Giving Tree) will be matching the donations they receive. In all, our share of the donations for Louisiana will be $2,000."
Epstein thanks CSUSA CEO Jon Hage, as well as the entire Palms West Charter School and Royal Palm Beach Rotary Club communities for assisting with these efforts to help.
Learn more about the Palms West Chamber School at www.palmswestcharter.org.