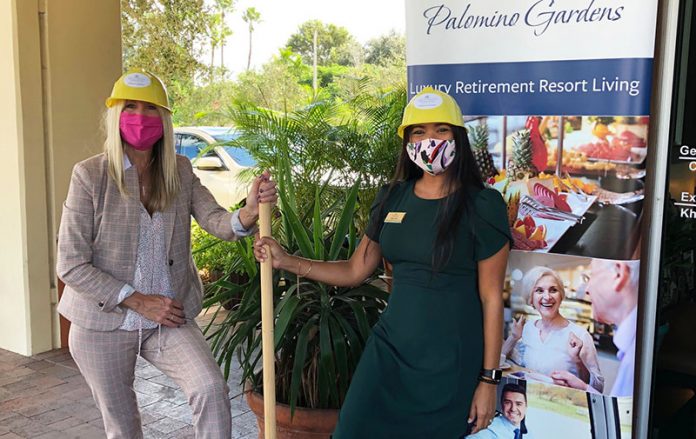 Resort Lifestyle Communities (RLC) is breaking ground on its newest all-inclusive independent senior living community, Palomino Gardens in suburban Lake Worth. The company celebrated the milestone with a ceremonial groundbreaking at Stonewood Grill & Tavern in Wellington on Wednesday, Oct. 14.
Guests from the local business community were treated to lunch and enjoyed a presentation describing the $30 million project and the jobs it will bring to the area.
"We are excited about being good neighbors," said Kelly Jo Hinrichs, vice president of marketing for RLC. "We want to make sure that building happens in the way it should for us to be the great partners that we promise to be."
Hinrichs then explained how RLC is unique in the senior living space because the company builds, owns and manages the property. The 21-year-old company has opened 40 communities across the United States, with 17 more under construction and another 26 under contract.
"We are on an amazing growth trajectory because of the concept that we have," Hinrichs said. "It is not only going well for us, but it's helping seniors around the country stay engaged in the local community."
The community engagement begins with RLC hiring local residents. The company anticipates that anywhere from 35 to 45 full-time and part-time jobs will be created and filled by local individuals.
"We hire people who serve from their heart — who love our seniors — and we help develop individuals to grow in the areas we are looking to support," Hinrichs said.
This includes setting up a job fair with local chambers. "You can help us find those local community members who will help serve our seniors passionately," she explained.
The 180,000-square-foot community includes an in-house bank or credit union, pharmacy, salon and even a 150-seat theater. While these amenities are open to the public, the theater is unique and will even be offered to the community, local business leaders and civic organizations.
"You are the kind of chamber member we dream of," said Mary Lou Bedford, CEO of the Central Palm Beach County Chamber of Commerce. "Not only do you understand the importance of being part of the community, but you're creating jobs and supporting local businesses. We are excited to be here, and on behalf of our board and chamber members, we want to welcome you."
Wellington Chamber of Commerce President Lisa Banionis is also looking forward to working with this new local business.
"We have a really huge health and wellness committee that we would love for one of your team members to sit on even now," Banionis said. "We are excited to have you here in our neighborhood."
The all-inclusive facility is designed to support its residents and relieve the stresses of everyday life. All meals are included, and a variety of services are offered 24/7. The apartments are one or two bedrooms and equipped with full kitchens.
The facility will be located at 9885 Palomino Drive, just off State Road 7 in suburban Lake Worth. Construction is expected to take 18 to 24 months.
For more information about Palomino Gardens, visit www.palominogardensretirement.com or call Bang Lake at (561) 578-6861.