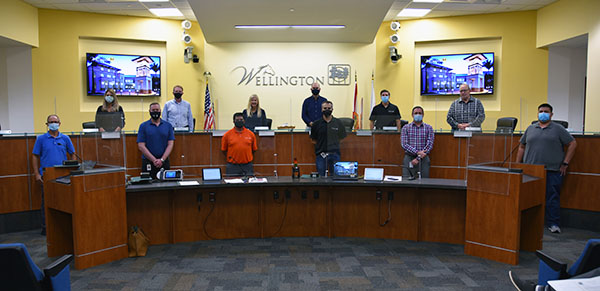 The Wellington Village Council recognized an unusual nominee as employee of the month on Tuesday, Nov. 10 — the village's entire Information Technology Department.
The IT Department was honored for its team effort in finishing a successful five-year complete rework of all the software systems in the village on schedule and within budget.
"It is my pleasure and privilege to recognize the Information Technology Department for their outstanding contributions in Wellington's WISE Project, originally known as Project 2020 back in 2015 when it started," Director of Administrative & Financial Services Tanya Quickel said.
WISE is the acronym for Wellington's Information Systems Environment.
"Thanks to the tremendous work of our steering committee, project team, subject matter experts and consultants, we are thrilled to announce the successful full implementation of our new environmental resources planning (ERP) software programs," Quickel said. "Critical to this project's success is the superior support from Wellington's Information Technology Department."
Team members honored at the meeting were: Assistant IT Department Director Camilo Campo, IT Solutions Analyst Karyn Ahwai, Senior Systems Administrator Ian Ainbinder, Systems Administrator III Adam Watson, Systems Administrator III Jonathan Martinez, Systems Administrator Jerry Willis and IT Director William Silliman, the team's leader.
"This group of IT system administrators represent amazing talent, expertise, ingenuity, dedication and determination, and we are proud to recognize them as employees of the month," Quickel said.