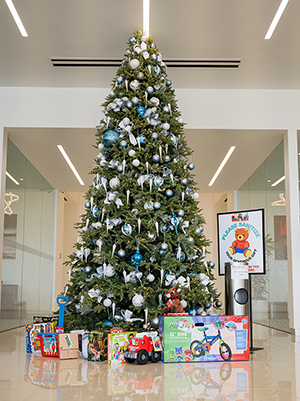 Each year, Braman Motorcars in West Palm Beach and Jupiter puts on their Season of Giving, where each test drive equals meals to the disadvantaged community, and each car sold equals toys for kids. The dealerships also collects toys from customers and Club Braman members.
This year, Braman has chosen Toys for Tots as the benefactor to assure that the treasures get delivered to those most in need. A preliminary down payment of 6,500 toys was delivered to the Toys for Tots warehouse in West Palm Beach in early December, with more going at the end of the month.
"Toys for Tots has an incredible infrastructure able to handle and efficiently distribute this massive amount of toys — and that's why we chose them this year," General Manager Stephen Grossman said. "With the unusual situation of the pandemic, our regular mechanisms to collect toys has been hampered by our inability to hold Club Braman events where our customers traditionally bring toys during celebrations for distribution to those in need. So as a result, we decided to tie vehicle purchases to toy donations."
Each dealership of Mini, BMW, Porsche, Rolls-Royce and Bentley were also collection points for toys where customers could drop off packages. Braman's marketing in the community continuously broadcasts the need for toys, fueling the effort. "This is such a great time of the year that brings together our staff and customers in this endeavor," Grossman said.
The annual toy drive began the day after the conclusion of the annual Drive to End Hunger, where BMW dealers team up in the Southern Region to feed the hungry. This year, Braman Motorcars contributed 161,000 of the 2.4 million meals provided by BMW Southern Region dealers, more meals than ever before.
"Fulfilling the need this year was paramount to us as a dealership," Grossman said. "With the arrival of this pandemic, there are so many people in need who a year ago never thought they would be. Relieving just some of these hardships made our staff work harder than ever to reach our Season of Giving goals."
For more than 30 years, Braman Motorcars has been providing South Florida with a world-class luxury automotive experience. With locations in West Palm Beach and Jupiter, Braman is an authorized dealer for Bentley, BMW, Mini, Porsche and Rolls-Royce automobiles. Learn more at www.bramanmotorcars.com.