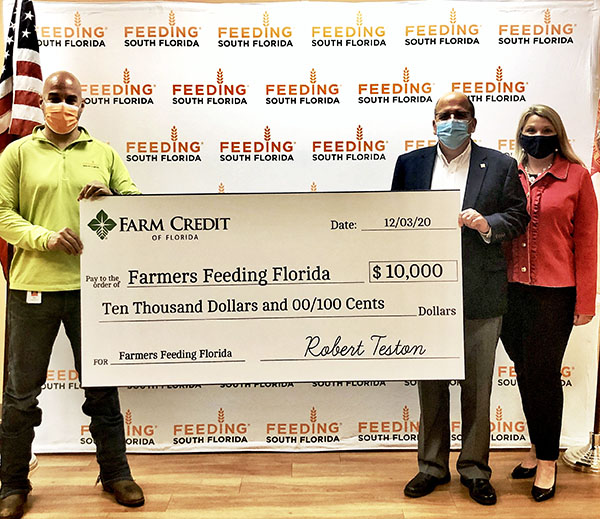 Farm Credit of Florida, headquartered in Royal Palm Beach, recently donated $10,000 to the Farmers Feeding Florida program, a produce recovery initiative of Feeding Florida that works with farmers and packers throughout the state to rescue and distribute produce to food banks.
This program is needed now more than ever in these difficult times, especially with the USDA Corona Food Assistance Program (CFAP) funding set to expire in late December.
"During trying times like this, the importance of agriculture's role to feed those in our state and around the world is never more clear," said Robert Teston, CEO of Farm Credit of Florida. "We are happy to support Farmers Feeding Florida so more produce can make it from the farm to the people that need it."
Farm Credit of Florida held a special November fundraiser where the firm welcomed its representatives and social media following to say what they were thankful for. As a result of large participation, the association would gift Farmers Feeding Florida with a holiday donation.
"At a time when COVID-19 has hit the state's agriculture industry and working-class Floridians, this donation allows us to help both growers and families who find themselves increasingly going to food banks for support," said Robin Safley, executive director of Feeding Florida.
Farmers Feeding Florida's produce recovery program works alongside farmers throughout the state to protect, rescue and distribute healthy and cosmetically blemished produce that can assist with the burden. This donation helps offset out-of-pocket costs for needed materials and allows farmers to donate truckloads full of produce to food banks, who in turn can provide healthy, nutritious produce to food insecure Floridians.
"Florida farmers take feeding our state and country very seriously. The partnership we have with the Feeding Florida program makes sure that those who are less fortunate have their needs met," said Paul Allen with R.C. Hatton Farms. "Farmers are givers, and the Farmers Feeding Florida gives us an avenue to show that we are givers."
During the pandemic, CFAP provided many food banks with fresh food from various growers and farmers. This additional support came at a critical time, when food insecurity in Florida jumped from 2.8 million to 3.6 million people. With that program's expiration date this month, but the need in Florida still as high, the Farmers Feeding Florida program will be more important than ever.
Donations to this program can be made at www.feedingflorida.org.