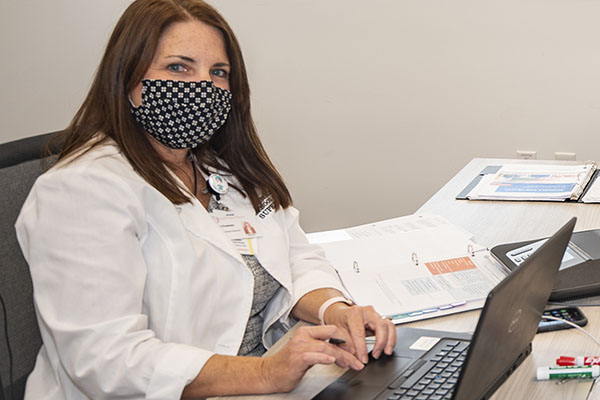 With the goal of promoting lifelong learning opportunities for registered nurses, the Health Care District of Palm Beach County recently signed a memorandum of understanding with Palm Beach State College to support Health Care District RNs in obtaining PBCSC's bachelor of science in nursing degree.
"This partnership with Palm Beach State College affords our dedicated Health Care District nurses an economical pathway to advance their educational and leadership skills by earning a bachelor of science in nursing degree that accommodates their work schedules," said Steven Hurwitz, the Health Care District's vice president and chief human resources and administrative officer.
Palm Beach State College began its bachelor of science in nursing program in 2012. Accredited by the Accreditation Commission for Education in Nursing, this "RN to BSN" bridge program is offered 100 percent online and is open exclusively to licensed registered nurses who have earned an associate's degree or diploma. The Health Care District nurses will add to the more than 400 RNs from throughout the state who have earned PBSC's BSN degree to date.
This degree is an asset for registered nurses across the Health Care District's programs. These programs include the public healthcare system's rural, acute-care teaching hospital, primary care clinics, skilled nursing home, trauma agency and its more than 200 registered nurses in nearly all of the public schools.
To encourage participation, the Health Care District's employee benefits plan offers a higher reimbursement rate toward tuition for the RN to BSN program than other college degree programs. The goal is for a cohort of the Health Care District's registered nurses to attend Palm Beach State College's classes together to help support each other.
Earning a BSN is increasingly important for nurses due to changes in healthcare delivery, the complex medical challenges of an aging population and the growing preference of healthcare facilities to hire nurses with advanced education.
"Nurses are the backbone of our healthcare system, as exemplified by the Health Care District nurses, who take care of us in so many ways," said Louise Aurelien, director of PBSC's BSN program. "Our team of faculty and advisors look forward to providing these hard-working nurses the focused support, relevant engagement and academic rigor that will allow them to grow professionally and transition to leadership roles."
Earning the degree has already made a difference for Lisa Einsteder, a school health nurse supervisor with the Health Care District and recent program graduate.
"As a full-time school nurse, it's not easy to find the time to earn an advanced degree," Einsteder said. "The online BSN program at Palm Beach State College is flexible, enjoyable and motivational. It prepared me well for my new leadership role as a supervisor, and I highly recommend it to other nurses."