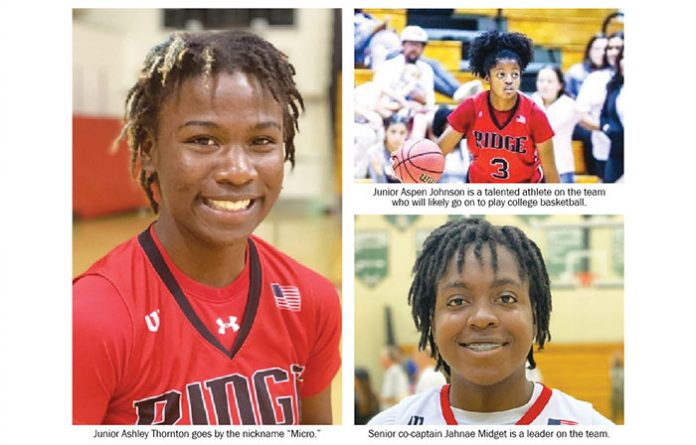 This year's season is off to a strong start for the girls varsity basketball team at Seminole Ridge High School.
The Hawks opened up the season with a big win at home, defeating West Boca Raton High School 69-27 on Tuesday, Dec. 1. Because of COVID-19, the number of regular season games this year has been cut from 25 down to 15.
According to Seminole Ridge head coach Maria Hudson, the current varsity roster only has seven players, but that won't detract from the team's main goal of repeating as district champs this year.
"Last season, again with only seven players, we won our first district title," said Hudson, now entering her fourth year as the head coach.
For the team to win the district title, Hudson needs contributions from each player in every game and in every practice.
The Hawks are led by senior co-captain Jahnae Midget, who plays on the wing. She is committed to attending Palm Beach Atlantic University next year to play basketball and to study toward her goals of becoming an orthopedic surgeon.
After looking at Midget's statistics after the season-opening win against West Boca, it's clear that she is a complete player. She scored 22 points, grabbed five rebounds, dished out four assists and had two steals.
Hudson loves Midget's positive attitude and commitment to excellence.
"She could have played for any of the area powerhouse schools, but she chose to attend Seminole Ridge because of our biotech program," Hudson said. "She has stayed here all four years."
The team's other co-captain is junior Aspen Johnson. Hudson knows that Johnson is a talented athlete who can score and will eventually play college basketball. Johnson missed her sophomore year due to an injury but is now 100 percent healthy.
"Aspen is going places," Hudson said. "She is a special player. We missed her last year. She has come back from her injury stronger and better than ever."
Johnson, who stands an even six feet, scored 30 points in the season opener against West Boca.
Senior center/power forward Lynzie Smikle is one of the more physical players on the Seminole Ridge team.
"She is our primary rebounder," Hudson said. "She takes all the bumps and bruises down low. She also plays on the football team here at Seminole Ridge."
Senior small forward Timyah Wrisper does many things in games that help the team win, yet her good deeds rarely appear in the box score.
"Timyah hustles, dives for loose balls and defends very well," Hudson said.
The best word to describe sophomore small forward Kiori Butler is "passionate."
"Kiori gets after it in practice and in every game," Hudson explained. "In our first game, she grabbed 10 rebounds, had six steals and seven assists."
Junior Ashley Thornton, who goes by the nickname "Micro," is the team's main point guard. Hudson said the team is blessed to have such a talented floor general.
Why "Micro?"
"Ashley is super small, as she only stands 5-foot-2, but she plays like she's 6-foot-8," Hudson said. "She has no fear of bigger and taller players."
The seventh player on the squad is sophomore power forward Emily McKenzie, who represents the future of the program. "Emily is new to the team, and she's still getting used to playing varsity basketball," Hudson said. "But she is getting better every day."